Partypoker is one of the most famous poker brands. They have been online since 2001, and after withdrawing from the American market in 2006, they lost the battle for being the most popular online poker site against Pokerstars.
Here is a rundown of the main tactical characteristics of the site, you can click on any term to jump to its respective section.
The last couple of years, Partypoker has been fighting to win back market share from Stars by offering a similar fast-fold format like Zoom, called Fast Forward. High-volume players were also rewarded generously in an attempt to make players switch to Partypoker.
These days, they're trying to balance the ecosystem between professional players and recreationals. Replacing the leaderboards by the Hot Tables promotion is a clear example of the new direction Partypoker wants to head into.
Partypoker offers Omaha Hi and Omaha Hi/Lo (referred to as 'PLO8' for tournaments, as acronym for Pot-Limit Omaha Hi/Lo 8-or-Better) from 2-8 seat tables.
PLO Mastermind Coach Fabian aka 'Suhepx' take on Partypoker:
Last year I played most of my volume on Partypoker. Contrary to other poker sites, Partypoker still offers moderate rake with decent rakeback. That has also attracted a fair amount of pros. Of course this made the games tougher, but while "on paper" the average skill of the opponent was high, in reality a lot of players were constantly playing their B- or C-Game in pursuit of leaderboards and rakeback bonuses. It is a great site to play with reliable traffic, just make sure not to fall into the same B-Game trap!
Can you play Partypoker in the US?
Although Partypoker is open to most countries in the world, there are some exceptions. Currently, Partypoker can be played from the US only in the state of New Jersey. The expectation is that more states will be available in Partypoker USA in the coming years.
Check out where to play Omaha poker in the US.
Here's a selection of the other countries that are restricted from playing:
Albania, Armenia, Australia, Belgium, Bulgaria, China, Cuba, Greece, Hong Kong, India, Indonesia, Israel, Italy, Japan, Macau, Malaysia, Philippines, Romania, Serbia, Singapore, Slovakia, South Africa, (South) Korea, Switzerland, Thailand, Turkey, Uruguay, Vietnam.
Players in some of these countries are able to join the Partypoker network through one of it's other skins: Coral, Ladbrokes and/or Bwin.
Payment Methods
Partypoker offers the most common payment processors like Neteller, Skrill, Ecopayz, Muchbetter as well as major credit cards. Note that payment options can differ per location.
Each method has a minimum and maximum deposit limit, ranging from $10 up to $100,000 in some cases. Both deposits and withdrawals are free of charge.
Reliability
Having been successful in the poker industry for around 20 years, Partypoker is one of the most trustworthy and reputable poker sites in the market.
They're operating in a lot of countries where players have restricted access to poker sites due to regulations, such as France and Spain.
New Jersey is the first state in the US where you can access Partypoker again. It's to be expected that more will follow in the coming years since more states start legalizing online poker.
Next to their online operations, Partypoker sponsors many live poker events such as the World Poker Tour and their own flagship "Millions" series.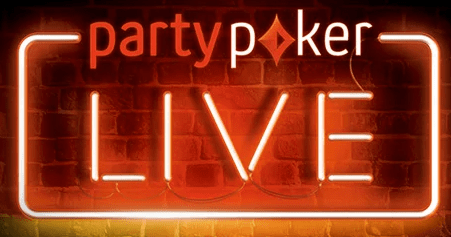 Partypoker has a whole team of ambassadors representing the brand at live events as well as online.
Kevin Hart and Isaac Haxton are the most famous names of their ambassadors, Jaime and Matt Staples and others represent their Twitch team, whereas Joni Jouhkimainen and Dzmitry Urbanovich are sponsored pros along with a few others.
Welcome Bonus

A minimum deposit of $10 by new players will be matched as a bonus up to a maximum of $600. When depositing $10 you'll get $10 worth in free play tickets on top, or deposit $20 to get $30 in tickets value as shown in the images.
You have 90 days to unlock the bonus with a clearance rate of 25%. The bonus clears in 10% parts. So in case you deposited $100, that amount will be matched and cleared in 10 parts of $10.
For every $40 in rake generated, or 40 loyalty points, a $10 piece will be credited. To clear a $100 bonus, $400 needs to be raked.
In order to make maximum use of the welcome bonus you need to rake $2,400 within three months to clear the full $600 after making an initial deposit of at least that amount.
Link your new Partypoker account to Black Card to earn an additional 40% rakeback for 3 months on top!

Rake Structure
The same rake structure applies to both Pot Limit Omaha and No Limit Hold'em. For low stakes (up to PLO50) Partypoker's rake structure isn't great. Better options can be found where poker rooms charge less % per pot and/or have more aggressive rake caps.

If you're a high volume player at these lower stakes the benefits of the rakeback system and Black Card's rake chase can still outperform the somewhat unfavorable rake structure.

From the stakes PLO100 and up, the 5% per pot and $3 rake cap is in line with average market conditions. The same is true for NLHE.
Rake caps are showing for 6-handed tables.
A lot of players are interested in how rake is reflecting in bb/100. By conducting our own research and comparing rake structures we come to this broad conclusion:

Note that bb/100 is a very subtle statistic and can vary a lot across different playing styles. Since it's a question that often returns I hope it's still valuable as a general reference.
Rakeback

Players at Partypoker are treated well rakeback-wise. Their internal system grants each player a minimum of 20% rakeback going up to 40% dependent on the amount raked every week. You can see the different rakeback tiers in the following table.
High rollers who rake a lot more can decide to join the Diamond Club (Elite). Diamond Club members can earn 50% rakeback raking $100,000 over a 12-month period.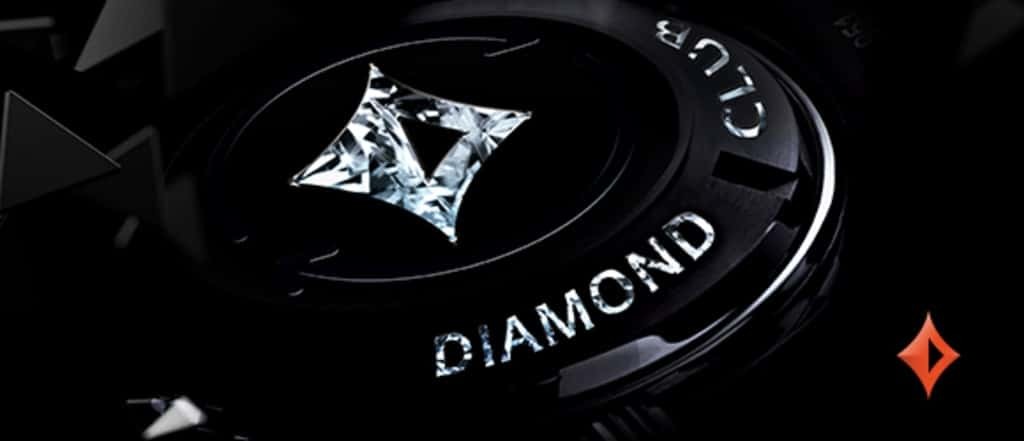 Diamond Club Elite members can earn up to 60% rakeback if they rake $200,000 over a 12-month period and even receive a VIP package to the Carribean Poker Party held in the Bahamas!
By successfully linking your Partypoker account to Black Card you can participate in our weekly rake chase to earn additional cash prizes.
For every dollar you're raking, you earn 10 leaderboard points. So for example, if you earn 5,000 leaderboard points in a week you'll receive a $25 cash prize and for 10,000 points, $75 on top of Partypoker's regular benefits!
Database/HUD support
Partypoker doesn't allow the use of a HUD. Hand histories are downloadable via MyGame and possible to import into your Hold'em Manager 2/3 or Poker Tracker 4 database.
Here's how to do it:
1. Click on the drop down arrow next to your screen name and select "My Game". Within MyGame select "Export Hands" with the download icon on top.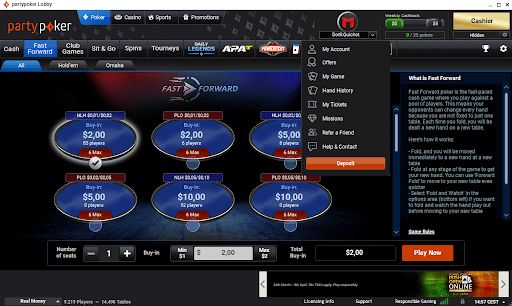 2. Use a time period within the last 40 days and hit 'download'.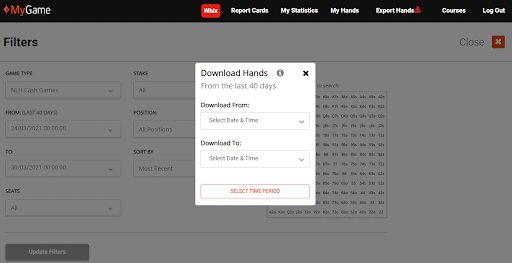 3. Downloading creates a .txt file containing all the hands played during the period selected. Import the .txt file into your favorite database.
Try Hold'em Manager 3 or Poker Tracker 4 one month for free.
Competition Softness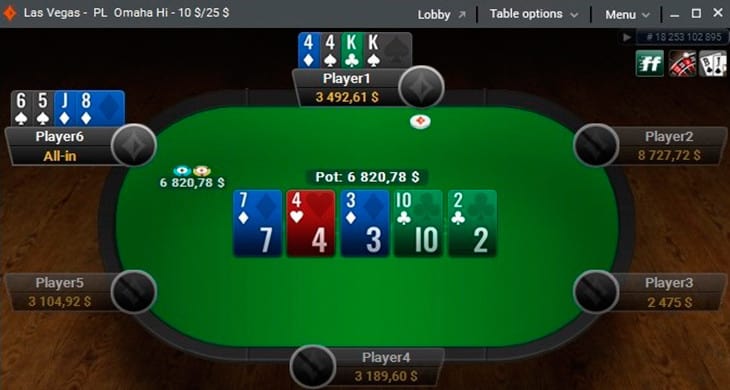 In the battle with Pokerstars a huge amount of promotional money was spent to encourage players to move from Stars' fast-fold format "Zoom" to play Partypoker's 'Fast-Forward'.
The leaderboard value attracted a lot of pro players and hardcore grinders and resulted in relative tough games compared to other sites.

Lately, the leaderboards have been removed by the 'Hot Tables promotion' that should benefit more players overall and rebalance the ecosystem of player types.
In the short run this will likely lead to leaderboard grinders leaving the site and therefore games will become softer. This should be appealing to pro's again and this is the new direction Partypoker is heading into.
Traffic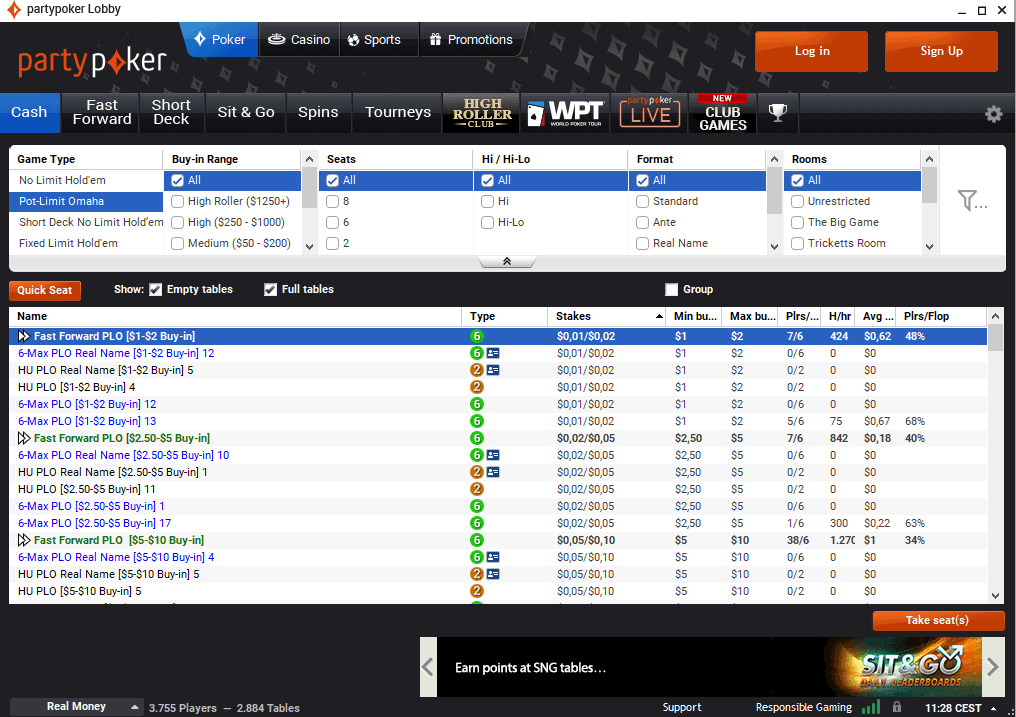 Partypoker was the most popular online card room between 2001-2005 and currently it ranks in the top 10 of most trafficking online poker sites.

If you're looking for the peak hours when the most games are running it's best to log in during European evenings. Throughout the day the action is decent compared to most other sites.
'Hot Tables' Promotion
You have a chance to win additional cash on regular cash games- and Fast Forward tables. Participating stake levels are NLHE and PLO10, 25, 50 and 100. Random prizes range from 1 big blind to a maximum of 500 big blinds to be won!
At PLO100 with blinds of $0,50-$1 you're able to win between $1 and $500.
Heads Up Games
The last decade most online poker sites removed all their heads up games. At Partypoker both NLHE and PLO heads up games are still being offered. From the micro stakes all the way up to $25/$50!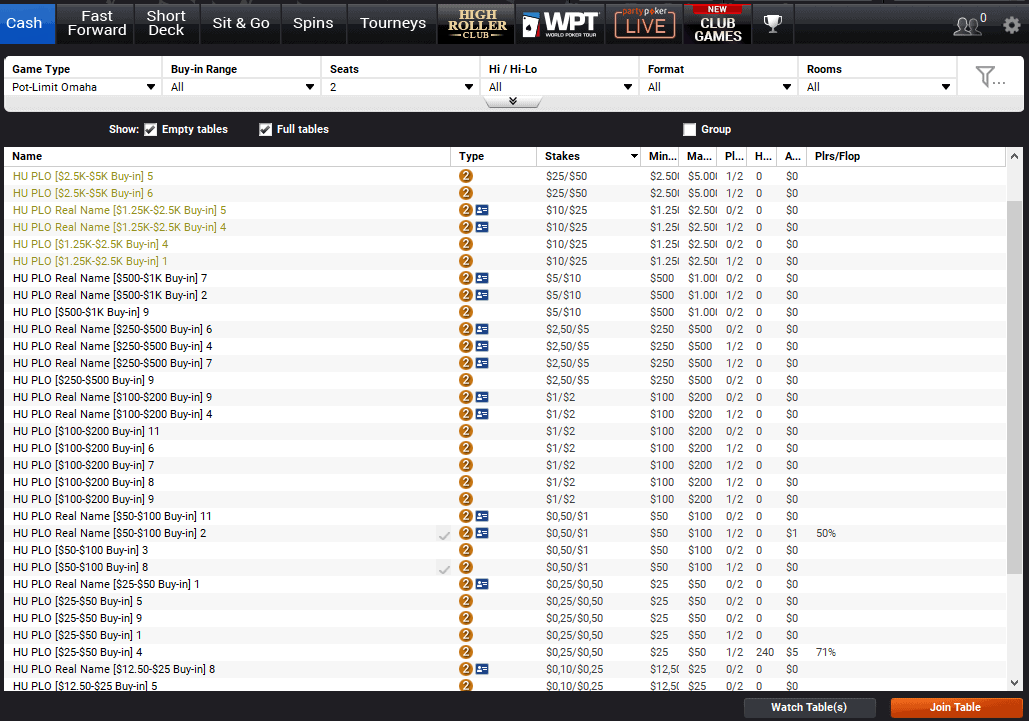 The rake for heads up games in both No Limit Hold'em and Pot Limit Omaha, is 5% per pot with a rake cap of $1.
PLO Tournaments

Partypoker is famous for annually hosting their huge 'Millions Online' tournament and 'Powerfest' series. They've also engaged in a collaboration with the World Poker Tour (WPT) during the Covid pandemic to host some WPT events online.

The tournaments hosted on a daily basis are called 'Daily Legends'. The schedule for the daily Omaha Legends tournaments are shown here below and consist of PLO and PLO8 events.
11 Daily Legend Tournaments
Partypoker hosts our Black Card member PLO freeroll tournament every last Saturday of the month.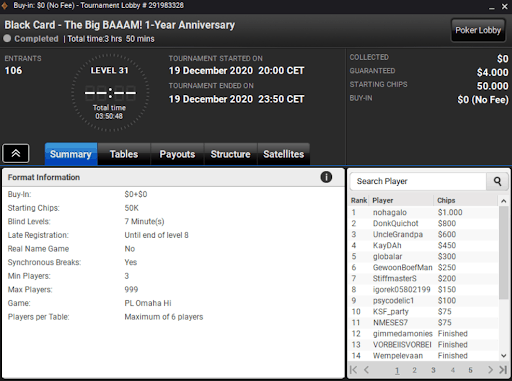 Are you interested in joining Partypoker? Make sure to sign up via Black Card and link your account to earn extra rewards on top of the Partypoker promotions! (New accounts earn 40% rakeback for 3 months) Become a Black Card member.