Poker tactics are all about off-table planning to boost your edge, minimize your risk, and most importantly, maximize your win rate. Poker is a game of incomplete information and having everything you can control thought out as much as possible can be extremely profitable.
Your goal is to discover the optimal environment where you can win, given the elements of Omaha poker tactics:
The best poker players don't just have a great understanding of poker strategy, they also implement the best tactics. They choose conditions where they can earn as much money as possible.
Tactics vs. Strategy
Decisions made at the poker table are strategic decisions  Examples are what hands to bet with, when to check, how to check-raise, bet sizing, and how to optimally play ranges.
Tactical decisions are generally made before joining a poker table and include minimizing the risk of going broke, making sure to play in a game you can beat, or deciding when to take shots at higher stakes.
Joining a table with 100 big blinds or playing short stack with the minimum buy-in is a tactical choice. And the decision of which hands to open with as a consequence of your buy-in falls into strategy.
Why are tactics important?
Overall, you can have a better strategy than the field, but your tactics could make it impossible for you to win because you are executing in the wrong environment.
You could play at higher stakes, but if your opponents have a better poker strategy, you won't be successful. Or, you could play low stakes and have a much better strategy than your opponents, but be playing on a poker site with bad conditions.
These are only some examples of bad tactics that will trigger failure in the long run. By making better tactical decisions, you can increase your chance of long-term, sustainable poker success.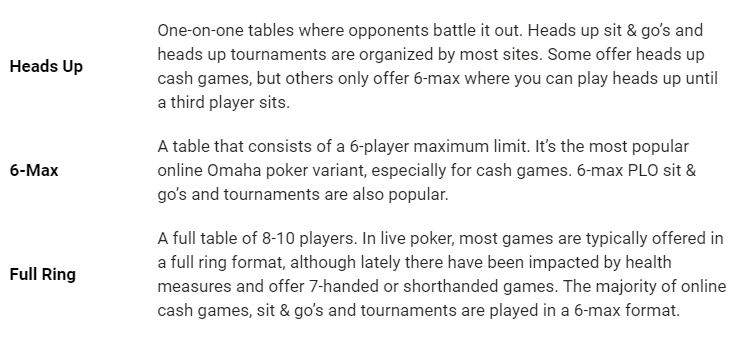 Maximize your win rate by playing a game format you enjoy, one that fits into your general lifestyle.
Cash Games
In both online and live poker, there are flexible tables where you can sit down wherever there's an open seat. You're allowed to join and leave the table whenever you like.
In online games, you can create an optimal playing schedule whenever tables are running. In live games, joining and leaving is slightly more complicated, as there are more often longer waiting lists. You might need to call ahead or try to get yourself on multiple lists and change tables again at some point.
In online poker, there's also an additional type of cash game that can be categorized as fast-fold poker. You can click 'fold' before it's your turn to act and get immediately re-seated at a new table to play the next hand.
In this clip, PLO Mastermind coach Luuk Botter talks about the key differences between playing regular tables and fast-fold tables.
Sit & Go's
Sit & go's, often shortened as SNG's, can be played with 2, 6, 8, and even up to 180 players. Registration is open at all times and the game starts when a specific number of players is reached.
Every SNG has a certain buy-in and speed format. For example regular, turbo, or hyper turbo.
The prize distribution depends on the buy-in amount and the number of players. In a 6-handed SNG, typically the first two players win. A common payout structure is 65% for first place and 35% for the runner up, after deducting rake. More players will essentially mean more places paid out.
Tournaments
Opposite to SNG's, tournaments are scheduled and start at a given time, regardless of the number of entrants. Tournaments can have different buy-ins or speed formats, and tables can be heads up, 6-max, or 9-handed. Players receive a starting stack and the blinds go up every X minutes until there's only one player left. 
As with everything in poker, there are also many variations of tournaments types:
Re-entry or multi-buy tournaments – where you can re-join when you bust.
Re-buy tournaments – where you're able to buy again by staying at the same table.
Freeroll tournaments – where you play for free for a chance to win prizes.
Bounty tournaments – where you get rewarded every time you knock out a player.
Satellite tournaments – which function as qualifiers for a higher buy-in tournament.
The most prestigious tournament in poker is the Main Event of the World Series of Poker, held live annually in Las Vegas. The biggest online PLO tournament series is Omaholics, hosted on GGPoker.
If you are interested in playing tournaments, make sure to check out our PLO tournament strategy article.
Site Selection
In the poker world, there's you and your opponents. But there's also a third party involved, and that third party always wins. That third party is the poker site, or the poker operator.
Your choice of what online poker site to play in will have a big impact on your win rate. It's an important decision, so let's break down the main factors.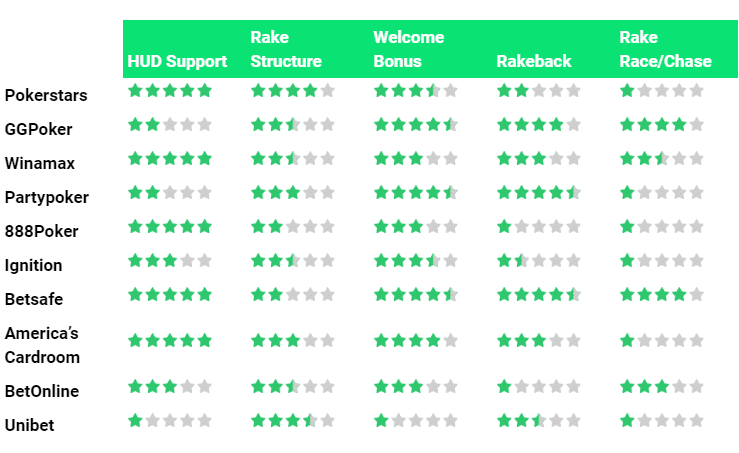 Poker Rake
What is a rake in poker?
To be profitable, the poker site or poker operator charges a commission called rake. In cash games, a certain percentage is taken out from most of the pots played. In sit & go's as well as online and live tournaments, the rake is a fixed fee and reflects a percentage of the buy-in.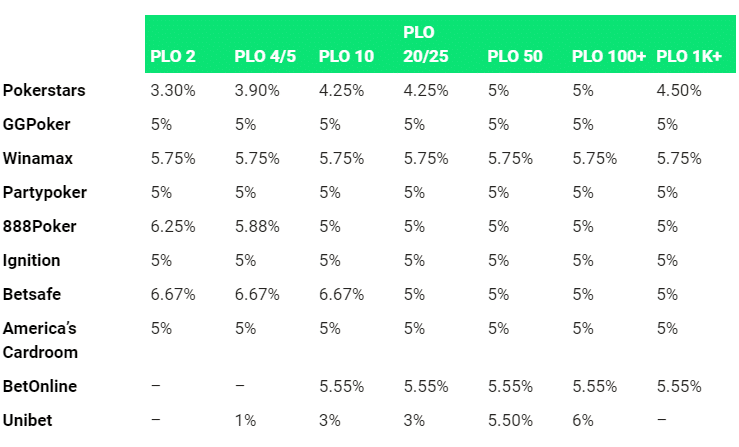 The amount of rake charged differs per poker site and casino and typically varies depending on the number of players at the table. In online cash games it's common to charge 5% per pot, often capped at $3. You will pay more rake as you play more hands, and also by playing on higher stakes since pot sizes become bigger.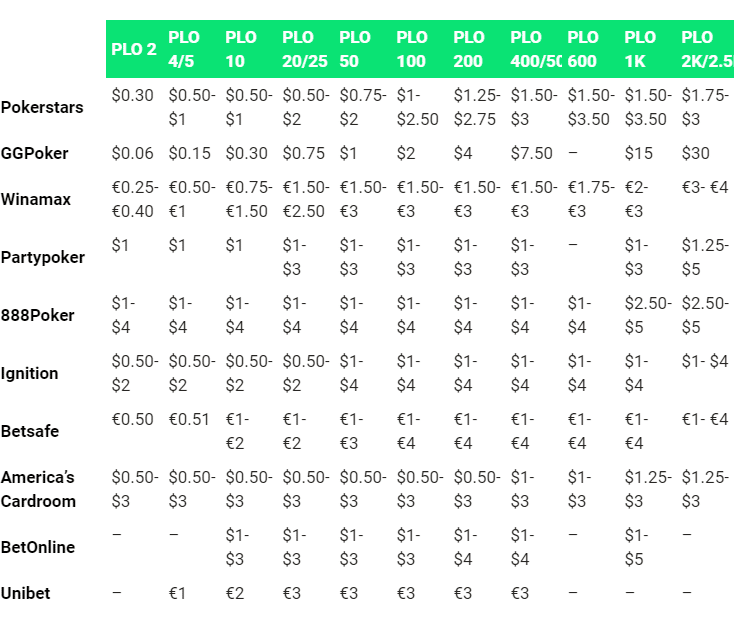 Poker Promotions
If you're joining a new site, often poker bonuses, or so-called first-deposit bonuses, are offered. This is great additional value and lowers the effective rake amount you're paying.
A welcome bonus has a few components: the maximum amount you can clear, an expiration date, and a clearance rate. They're connected to the amount you pay in rake. To exploit this bonus you should ideally deposit the maximum amount.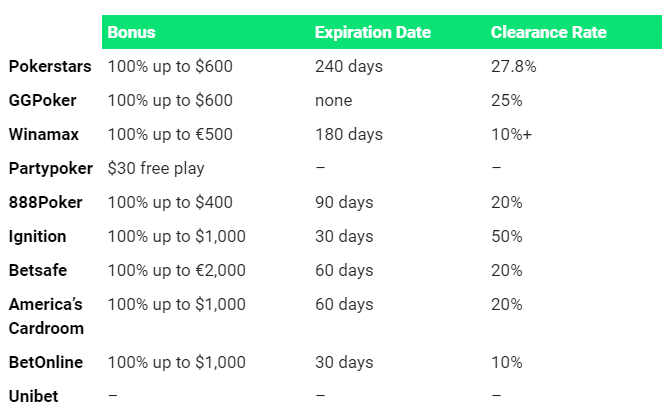 Let's assume you receive a $1,000 welcome bonus that expires in 60 days with a 20% clearance rate. You need to rake $5,000 in this 60-day period to unlock the full bonus, because the bonus clears at $20 for every $100 in rake (20%), or $1,000 for every $5,000 you rake.
The more you rake, the more you will clear off.
Poker Rakeback
Rakeback is the method through which a poker site can reward its players. The most common ways to offer rakeback are either a flat percentage or a tiered system, where the rakeback amount varies depending on your rake. The more rake a player generates, the higher his rank or VIP level becomes.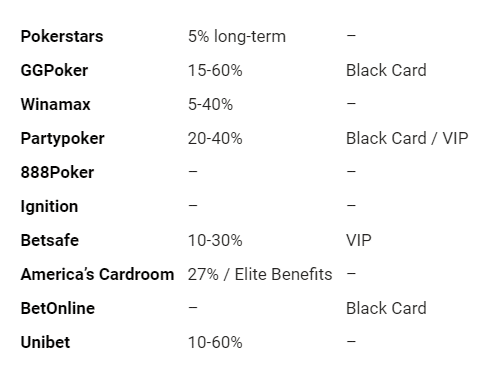 Black Card is the PLO Mastermind's poker site affiliate program. We partnered up with specific poker sites to bring you extra rewards. You apply to link your GGPoker, PartyPoker, Natural8 or BetOnline (accepts U.S. players) poker account.
Once linked you join a weekly rake chase and earn cash rewards that get directly deposited to your account. That's on top of any site benefits. Visit our Black Card page to learn more or apply.
Rake Races and Rake Chases
A rake race is where top rakes earn the biggest cash prizes, given a set amount of time. If you're able to put in a lot of volume playing many hours and tables, a rake race can earn you additional cash that adds up to your win rate and lowers the effective rake.
In a rake chase, you don't compete with other players. Cash prizes are determined beforehand and correspond with the amount raked, similar to a tiered rake system. It can be more appealing because the first milestone is easier to reach and every increment earns you a larger cash prize.
Read more on rake races and rake chases.
Traffic and Competition
Selecting the best poker site will improve your win rate significantly, especially when you're playing against soft competition with inferior strategy. It's a key ingredient when deciding where and when to play.
Traffic & Softness of Competition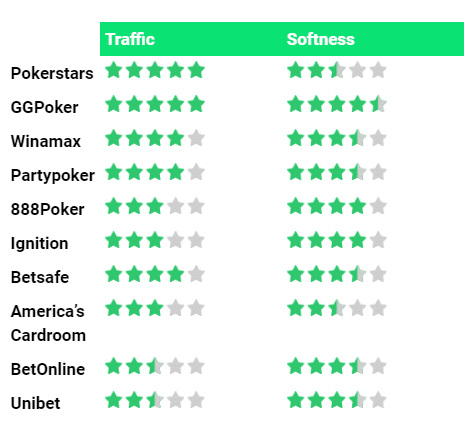 Some sites have traffic running around the clock, where others have certain peak hours. Your chosen site should offer enough traffic at the times of your scheduled playing sessions. You can also play a mixture of sites, given the games are great to play in.
If you want to know more about where to play, check out our game selection articles:
2. Planning
There's a much better chance you'll play your best game if you're organized and well prepared. By setting realistic goals and being aware of your obstacles, you're more likely to plan how to perform at the highest possible level on a consistent basis.
Session Planning
When you don't have a specific plan before you go into your session, it's easy to base your decisions on emotions and what is happening at the moment. Build an edge in this department by thinking ahead.
Certain very basic things are a must to keep you performing optimally:
Going to the bathroom before your session.
Having enough drinks and snacks.
Having a timer for breaks.
Having a clean, disruption-free workspace.
And most importantly, having a structured and well-designed plan before you play. Like the one in this video from our Crushing Small Stakes PLO course.
Think about table selection, and where and when you'll play.
Identify the softest tables. Check the highest average pots, a statistic often shared by a poker site, and check the current active players you've marked as recreational.
Think about rake, promotions, and everything related to non-strategy. All these things have a huge impact on your bottom line and whether or not you make it in poker.
Time Management
Play when you are well prepared, when you know that your focus is at its finest and you're ready to crush the games. Give yourself the highest edge possible, to get the best shot at winning.
Your optimal time slot will mostly depend on your personality, your obligations, and the competition.
What time are you in the optimal mental state to play?
When are the recreational players playing?
When are the regulars playing?
When are the regulars tired or not playing their A-game?
Everyone has the same amount of time available but we all use it in different ways. With proper time management you're able to increase your output, whether you can dedicate one, four, or twelve hours a day to poker.
Just make sure to plan for the right amount of recovery to get the most out of your production.
Bankroll Management
What is a good starting poker bankroll? How many buy-ins should your bankroll be?
Instead of searching for a universal answer, understand what risk you're exposing yourself to and play within your means.
In Pot Limit Omaha, a big downswing can happen to anyone. Your confidence could be affected by long losing streaks, and it might even hurt your poker abilities. If you had 100 buy-ins in your bankroll and you'd lose 30, could you handle it? Would you be level-headed? Or, would it be too much exposure for your profile?
If the stake you are in makes you feel insecure, your following session will be impacted by that. You will be less courageous bluffing or bluff catching. How fast are you willing to move down to regain confidence? How is that going to affect your mindset and your chances of playing your A-game?
Maybe you require 200 blinds because only then you wouldn't be emotional about it, and you would be able to play your optimal.
That's something you have to know for yourself. A great way to dive deeper in this subject is our Poker Bankroll Management Guide.
If you're interested in making a deposit with a cryptocurrency, then our Simple Crypto Guide is for you.
3. Poker Tools
To make use of the best poker tools available is an important tactical decision. If you're not using them to improve your game, you're falling behind the curve.
Poker Trackers
It's hard to recollect all your hand data in your mind, it needs to be tracked by the software. Otherwise, developing your strategy will be quite challenging.
The most popular databases are Holdem Manager 3 and PokerTracker 4.
When a site is compatible, hands will be tracked automatically. Some sites let you import your hands into a database, other sites make it harder to derive hand histories, and need to be downloaded and imported manually.
Poker Site Compatibility with HM 3 & PT 4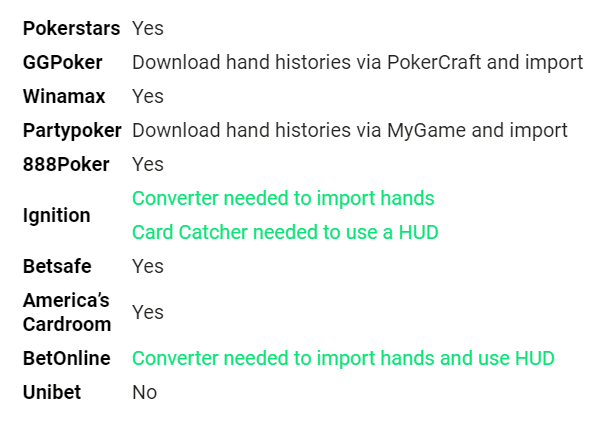 Some sites allow you to use a HUD, which stands for 'Heads-Up Display'. HUD software shows you statistics on other poker players. It's a great tool that will provide you with empirical data to understand their ranges and figure out opportunities for exploitation.
Subscribe to our newsletter to receive a FREE HM3 HUD file made by PLO Mastermind's small stakes coach Luuk Botter.
(We don't spam and you can unsubscribe any time.)
Check out the video below for Luuk's overview of the included stats.
To import the HUD profile into Holdem Manager 3, follow these steps:
Click on 'HUD editor' from the 'HUD' dropdown menu.
Click on Options>Import profile (within the editor).
Open the downloaded file and edit the name to your liking.
Select it from the 'Profile' dropdown menu.
Try Hold'em Manager 3 or Poker Tracker 4 one month for free.
Poker Solvers and PLO Trainers
Poker solvers are powerful computers running a huge number of simulations to come up with game theory optimal (GTO) solutions. In Pot Limit Omaha, MonkerSolver is the leading solver, used by many poker professionals to improve their game.
In our free MonkerSolver Tutorials course, we teach you everything you need to know about installing, setting up, and running your own sims with MonkerSolver. 
A lot of time and computer power is needed to run simulations on MonkerSolver, and the results need to be interpreted the right way to raise your game to a higher level.
That's why we created the PLO Mastermind and our 4-Card PLO and 5-Card PLO memberships. Our coaches basically show you the key takeaways we get from spending time or money on PLO solvers. And with our PLO Trainers, you're able to access our 195,000+ presolved sims library.
You'll also see us using the PLO Range Explorer, our Windows-only software with advanced features, which allows you to browse solver ranges, analyze custom subranges and strength buckets, and quiz yourself both preflop and postflop.
Other Poker Tools
If you're interested in a quick and simple hand vs. hand or hand vs. range match-up, there are poker tools such as ProPokerTools, where you can easily run simulations for Hold'em, 4- and 5-card PLO, as well as other variants.
Another tool is PokerJuice. It offers many options such as replay, multi-way analysis on when to stack off, how ranges interact, the impact of card removal, and the game builder, which lets you create a game or edit an existing one.
No matter which tool you use, make sure to cover frequently occurring scenarios that have a large impact on your win rate.
Conclusion
Having good tactics in place will be key to determining your poker success.
You do not have to be the best poker player in the world to win. If your tactics are aligned with your strategy skill you can still come out on top.
Deciding how, when, and where to play in it's broadest form is an important tactical decision since it has a major effect on our win rate.
The outcomes may vary per player and per location. So, make sure you are playing in the best environment possible to have long-term success.
Disclaimer: Site ratings might vary over time or be different among certain stakes. Poker site rake structure, rakeback systems, or bonuses may change over time.