the most powerful GTO
trainer for pot limit omaha
PLO Trainer is a Windows-only desktop software which allows fast access to GTO solutions for Pot Limit Omaha.
PLO Trainer allows for playful ways to learn a GTO strategy. By generating sets of hands to play through with instant feedback you will be able to run through hundred of hands quick and intuitively learn how to take correct decisions in Pot Limit Omaha.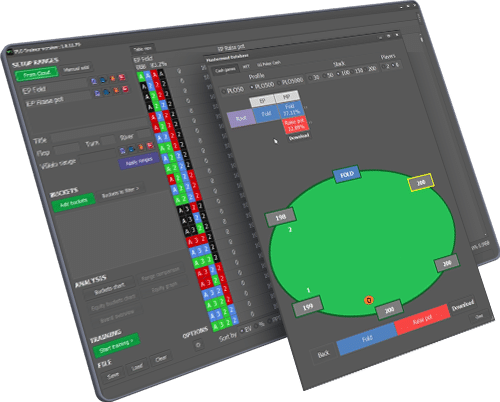 GET ACCESS TO 20,000+ SIMS
Our database stores over 20,000+ solutions for preflop, flop, turn and river situations. PLO Trainer can visualize ranges in different formats like Strength Buckets' or Equity Buckets, which will allow you to quickly recognize and learn strategical patterns in the game.
Our database will be frequently updated with new preflop and postflop solutions. Features will be added and improved on based on user feedback and request.
Group hands into strength classes like "Top Pair and Flush Draw", "Overpair and Straight Draw" or "Nut flush draw Blocker", and many more, and generate charts to visualize betting patterns.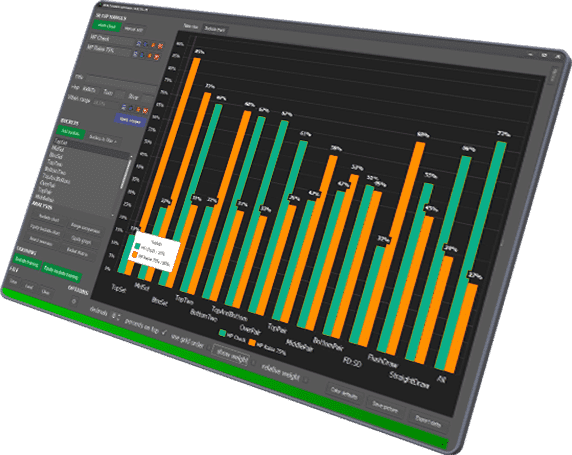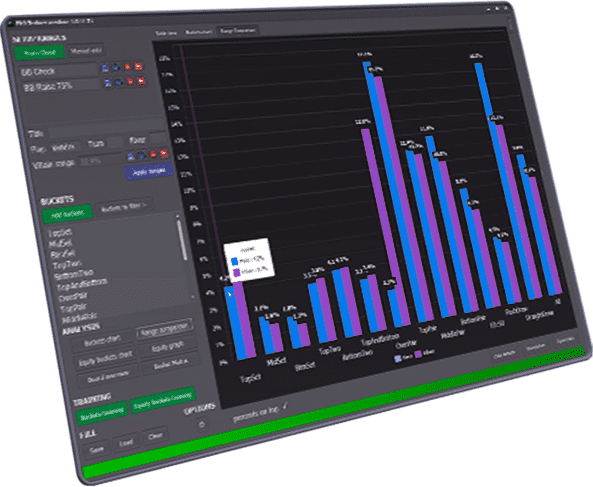 RANGE VS RANGE COMPARISON
Compare range vs range strength bucket distributions. This feature allows you to visualize how often each player holds certain hand classes.
Buckets Training: Play through hands within your range and get instant feedback on your decision making. Optionally you can separate hands into strength buckets and train them separately. For example if you know you're struggling playing Kings preflop, you can train Kings only. Same with postflop, if you know you struggle to play middle set or combo draws, "Buckets Training" allows you to train them separately and play through hundred of hand examples quickly.
Equity Buckets Training: Similarly, you can play through hands and separate them by equity. For example if you want to see how hands with marginal equity are playing in a spot, you can train these combos only.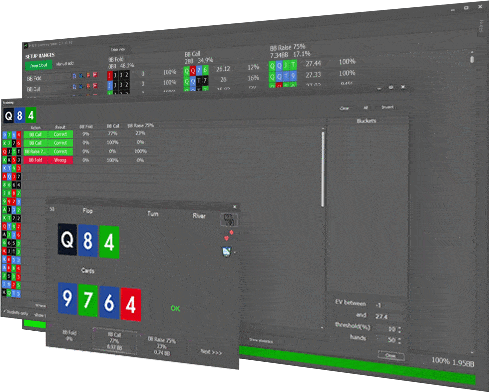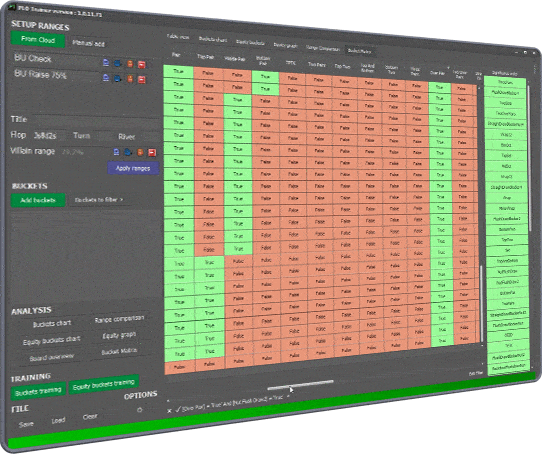 Automatically assign over 80 strength buckets to every possible combo in your range to recognize patterns within your strategy. Potentially the most potent PLO Trainer feature to date.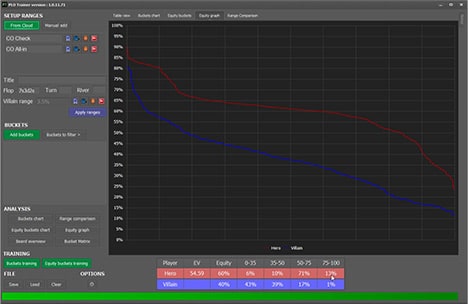 Visualize how equities in play are distributed over all possible holdings. This feature makes it visible which player holds an equity and polarity advantage and by how much.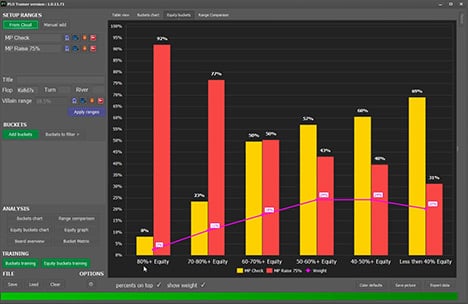 Break down and visualizes your range by grouping hands with similar equity. This allows you to understand quickly how equity correlates with betting actions. For example: Hands with more than 80% equity, slowplay over 90% of the time.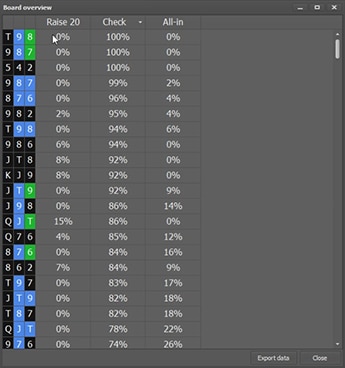 Lists all possible board variations for any chosen node. This feature lists all possible flops in our database and the respective action frequencies and sizing choice.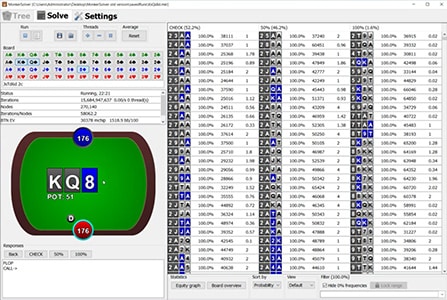 Import your own ranges and analyze them. Train through your own sims and get the most out of them.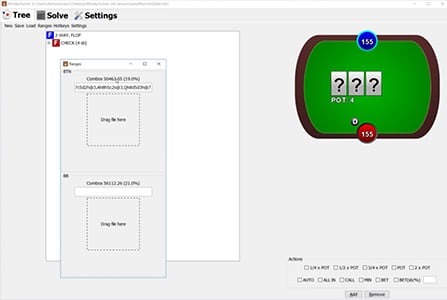 Export our ranges to run your simulations in your own solver. Then re-import your new results to keep working on your game.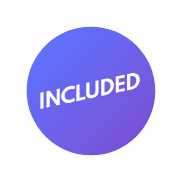 Browser-Based Range Viewer  ($79/mo value)
No download required

Browser-Based Range Viewer  ($79/mo value)
No download required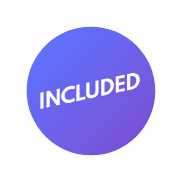 $149/mo, $125/mo paid annualy or bundle with the PLO Mastermind membership

I finally got around to play with the tool and I am totally stoked. Having watched the 2 videos on it I find the software easy to navigate and I can't wait to be able to download the postflop ranges. ❤ I love the training functionality and it will probably be what I'll use the most.
Hey guys, I think the PLO Trainer + videos is the perfect combination 😄 I don't have enough patience or resources to buy a solver and put all that work so this is so great and I am loving it.
I was intrigued by the PLO Trainer Beta version after its release, so I decided to go ahead and buy a PLO Mastermind subscription. Knowledge of the vast space of possible post-flop scenarios is not needed to become a crusher – rather, you need a solid foundation of the most common spots that occur over and over. Running quick simulations on single-raised & 3-bet heads-up pots is going to be your bread and butter. Frankly, that's where the money is at too. You can find correct ranges from 30-200bb for those with PLO Trainer.
Poker players are lazy by definition (clicking buttons to make money), so you want to make your learning experience as smooth & easy as possible. That's precisely what the features of PLO Trainer offer for a poker player. No waiting time needed to come up with solutions – that's a poker tool to my liking. On behalf of our team at beastsofpoker.com, I can assure you this tool is 5/5 Beast approved!
2021 Winner of WSOPC Event 16 $3,000 Pot-Limit Omaha Championship (EARNED $185K)
Samuli 'BeastsSag_A' Sipilä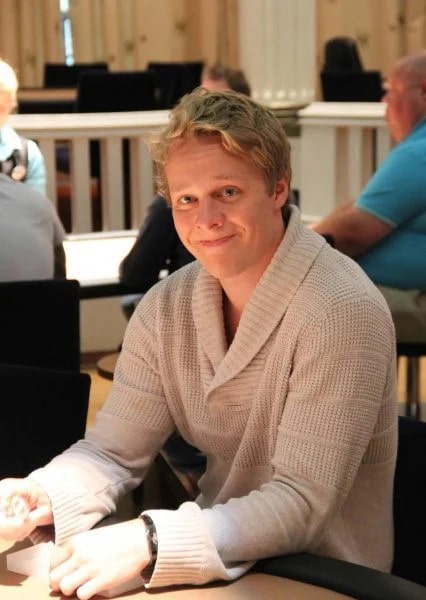 If you're not happy with your first month, you can request a full refund within the first 30 days. 
Our support team will simply ask you for feedback and send your money back right away.
Most frequent questions and answers
What payment options are accepted?
We accept all major credit and debit cards and Paypal. For Skrill and other payments please contact us at [email protected]
What's your refund policy?
New subscribers to the PLO Trainer have a 30-day refund period, no questions asked (only feedback!). Feel free to email [email protected] with any refund request or question.
What are the computer requirements?
Operating System
Minimum Requirement: Windows 7, 8, 8.1 or 10.
Recommended: Windows 10, 64-bit
Hardware
Minimum Requirement: Intel Core i3 (or AMD equivalent) processor with 4GB of RAM. 
Recommended: Quad-core processor with 8GB of RAM or greater. This includes the Intel i5 processor lines (or their equivalent AMD processors).

Optimal: Intel Core i7 multi-core 64-bit processor with 16GB of RAM or greater.

Not Recommended: Intel Pentium 4, Atom, Core 2 Duo, or other low power processors such as ARM.
What happens when I cancel my subscription?
When you cancel your subscription you will still maintain access to the PLO Trainer until the period paid for expires.
For example, if you sign up on June 1st you will maintain access until July 1st at which point your access to the PLO Trainer will end.
You can renew your subscription at any date after the expiration date.
What is 'Balanced actions' in training?
The Balanced actions feature when ticked provides you with a balanced outcome in your training session dependent on the amount of actions.
For example if you have set up a training session where the actions are raise or fold there'll be a 50/50 balance in the answers. Same for if you have fold/call/3bet as the actions there'll be a 33/33/33 balance in the training session.
This feature is to avoid scenarios where you may be training Early Position in PLO 50 100bb where you have for example a 17% RFI allowing you to essentially click fold on every situation and be correct 83% of the time.
What is a 'convergence issue'?
Convergence issues arise when a situation has not reached a perfect outcome; this is due to some areas of the game tree taking longer to reach a 100% outcome than others. These situations generally arise in deeper/rarer parts of the game tree for example facing a 3-bet and a cold call the solver tends to be the least accurate in these areas.
When coming across such a situation the best thing to do is take similar combinations or group similar hands in order to get a better understanding of the action to take.
All of our post flop sims can be accessed via the PLO 500 profile. The reason they are only available via the PLO 500 profile is due to post flop rake not changing much in the overall strategy we had to decide on one set of preflop ranges we'd use to run thousands of post flop sims for.
What is 'Balanced Buckets' in training?
Similar to 'Balanced actions' balanced buckets will allow you to train rare buckets from your range with the idea being that using balanced training samples and results by categories will allow you to find situations you're not playing well and are costing you the most EV.
We donate one tree to Plant-for-the-Planet every month for each PLO Trainer subscription 🌳