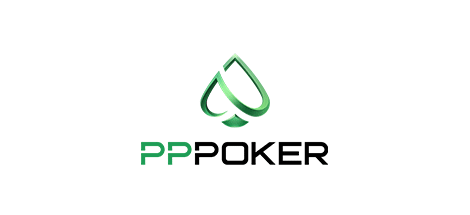 Disclaimer: PPPoker is an online social gaming platform and does not provide any real money service. Any monetary value indicated in this article is solely and exclusively endorsed by the respective club host.

PPPoker is a mobile poker app that initially started out as a platform for social gaming. Everyone could create their own club with chips as play money and invite their friends. Nowadays, most games are played for real money. The app is very popular among players in heavily restricted markets and due to the soft level of competition attracting players from all over the world.

Here is a rundown of the main tactical characteristics of PPPoker, you can click on any term to jump to its respective section.

In April 2021, PPPoker celebrated its 5-year anniversary. While markets became more and more regulated, many live poker clubs moved to online apps. PPPoker and PokerMaster were the most popular around 2017 and at the moment PokerBros and PPPoker are the most popular ones with plenty of traffic.

You could play PPPoker to earn gold coins or play in organized tournaments where you can win real prizes, like iPads, diamonds, VIP cards, or seats to live events. The majority of the games running are played for real money though.

A complete financial system is built around the clubs. Since it started with live poker clubs moving online, all financial transactions were handled in good faith. Because players knew each other personally, the app brought a lot of convenience as games continued in a secure environment.

These days, games are organized from all over the world and attract a lot of players because of their soft competition. Clubs are oriented in Brazil, the United States, many Asian countries, and Australia, and games are mainly played in the local currency. For example, cash game stakes can be shown in Brazilian Real or Australian Dollars.

A lot of these clubs started to form alliances or so-called Unions. You could perceive it as Natural8 and GGPoker being clubs, and the GGNetwork functioning as the Union. This way, smaller clubs combine their player pools and the whole Union becomes more attractive for other players, benefiting everyone. In exchange, clubs need to pay a fee to be part of a Union.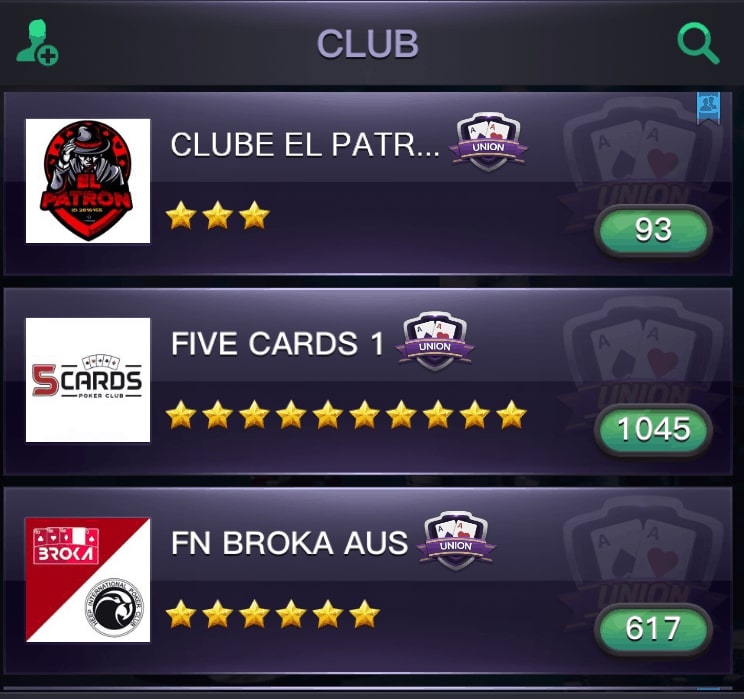 Owners of clubs work with agents or affiliates who are bringing in players to join their action. Owners earn a percentage of the rake generated by players, for example 80%. They have their costs for running their businesses and keep a portion as earnings. They could offer an agent a 50% deal on what the player he brought in generated in rake. The agent can negotiate a rakeback deal with the specific player and keep a percentage for himself for the work done.

Compared to regular sites, playing on the apps can be risky since all payments rely on trust. There have been multiple situations in the past years where club owners or agents ran off with players' money so always make sure to join via a reliable setup.
Payments
Unlike regular sites, if you want to fund your account(s) on PPPoker it's done via your agent. You inform the agent with how much you like to deposit and by which method and an address will be shared to transfer the money. With a single deposit you're able to distribute the funds over your accounts across all clubs you like to play at. Note that you need to fund each account per club separately.

Withdrawals work in a similar way. You inform the agent about the amount you like to withdraw and to which address where you like to receive the funds. Chips will be collected before the withdrawal is processed.

Payment options can differ per agent or affiliate. Cryptocurrencies are popular since payments can be processed quickly and it's relatively low costs. If you need any help depositing with crypto in general, check out this simple 6-step guide to get started.

Software
The PPPoker software is optimized for iOS and Android devices. The app can also be downloaded on a PC. Go to the PPPoker website and click the 'Download Windows' button. Playing from a Mac computer is not supported.

The app is easy to use and takes only a little time to get familiar with. It's still recommended to take your time to adjust if you're starting out because it's quite a bit different than you're used to from regular sites.

The tables are vertically aligned since its origin is being a mobile app, thereby giving you the best overview and experience.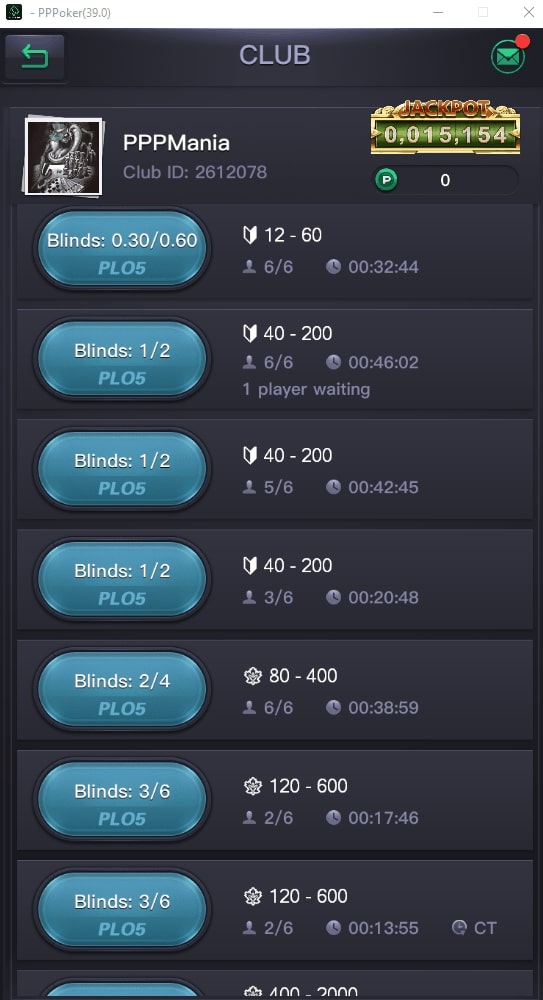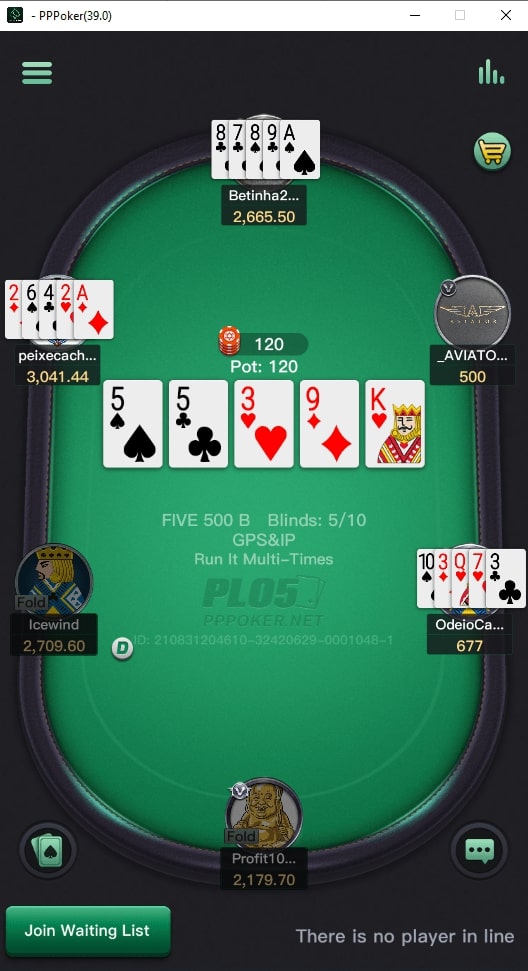 Reliability
Since PPPoker, launched in 2016, is a social platform that is only offering games with virtual chips, they don't have a gambling license. We're talking about the reliability of PPPoker itself here.

If you're going to play real money games via an agent or affiliate there is risk involved since the relationship is built upon mutual trust. Make sure to play via a reliable setup.

Gaming Labs certified the Random Number Generator (RNG) after passing the test on December 12, 2017. Therefore we can safely assume that the games offered are fair. In the last couple of years, PPPoker improved its measurements to counter cheating.

One of the security measures is GPS and IP restrictions that are in place. As a result, players can't join the same table with multiple accounts and GPS helps to monitor if players are playing from (or near) the same location. This can lead to not being able to sit at a certain table.

PPPoker implemented additional measurements in March 2021. A CAPTCHA validation process should help distinguish human beings from robots. If players don't pass the test within 30 seconds or fail twice, they're removed from the table. Club owners also have the option to activate a PC restriction for a table they set up.
This will prevent players via the Windows version from being able to join the particular table. Another measurement that works in a similar way is called linked email restriction where players need to link a valid email address to their account.

PPPoker also has an 'auto interception system' running that monitors action 24/7 to counter bots and collusion. The system has over a hundred indicators running in real-time to check player accounts. If proven guilty the account will be banned permanently.
In addition, there's an in-app feedback feature to forward suspicious activity. Club hosts also have the ability to monitor the fairness of their games and you can always forward dubious action to run an extra check on the accounts involved.
Welcome Bonus
Whereas on regular sites a welcome bonus is offered and cleared automatically for a certain percentage of rake generated, most PPPoker clubs don't offer a welcome bonus. The reason is simple, it's a lot of work and needs to be taken care of manually.
Agents generally offer a flat rakeback percentage with potential increments as an alternative because it's much easier to handle. Once a week rake reports are shared and players receive the rakeback they earned in their preferred player account.
Rake Structure
Although the rake structure can differ among clubs, the general structure set by club owners is 5% charged per pot with a 3 big blind rake cap.
For low stakes, the micro's up to $0.25/$0.50, 3bb is actually great. It means that at PLO50 the rake cap is $1,50. For $0.50/$1 stakes 3 big blinds are in line with what the regular site market offers. At games with $1/$2 and $2/$4 blinds, a 3bb rake cap is unfavorable.

Often the rake cap becomes 2 big blinds at stakes $3/$6 and higher. Such a rake cap is still not great but the soft games and rakeback deals out there can easily make up for it. You can request a particular rake structure of a club you like to play in from your agent.
Rakeback
Rakeback deals are different per agent. Rakeback deals that are offered to players can differ among agents and affiliates. Most of the time a deal can be discussed, especially when you're generating a lot of rake.
Make sure you're playing via a reliable agent, not just the one offering the highest rakeback percentage because securing your money is most importantly playing on an app like PPPoker.
Database/HUD support
PPPoker offers in-game statistics that can be retrieved by buying VIP Cards. In the image below you can see the different VIP Cards and the additional benefits each one offers. The Silver Card, Black Card, and Platinum Card all expire after 30 days.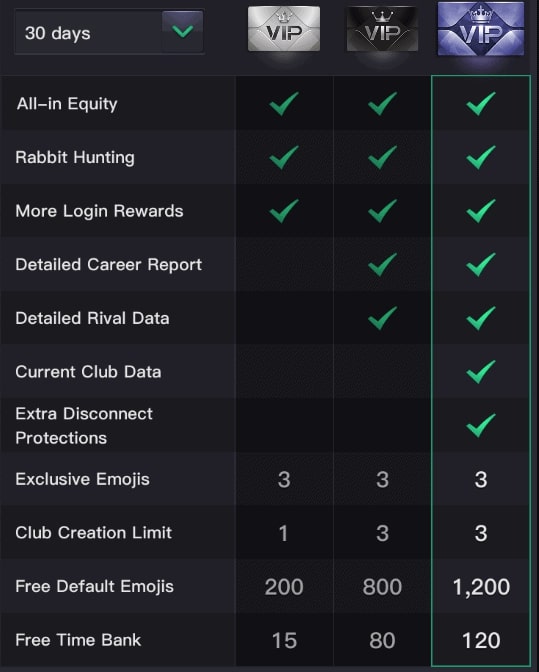 The costs of a Silver Card are 380 diamonds, Black Card 1,580, and Platinum 3,880 diamonds and can be purchased from the shop, under 'Items'.
The costs of purchasing diamonds are: $0,99 for 60 diamonds, $4,99 for 300, and $12,99 for 780 diamonds. VIP Cards can offer time banks or stats of your opponents, called 'Detailed Rival Data'. An example of these stats is shown below.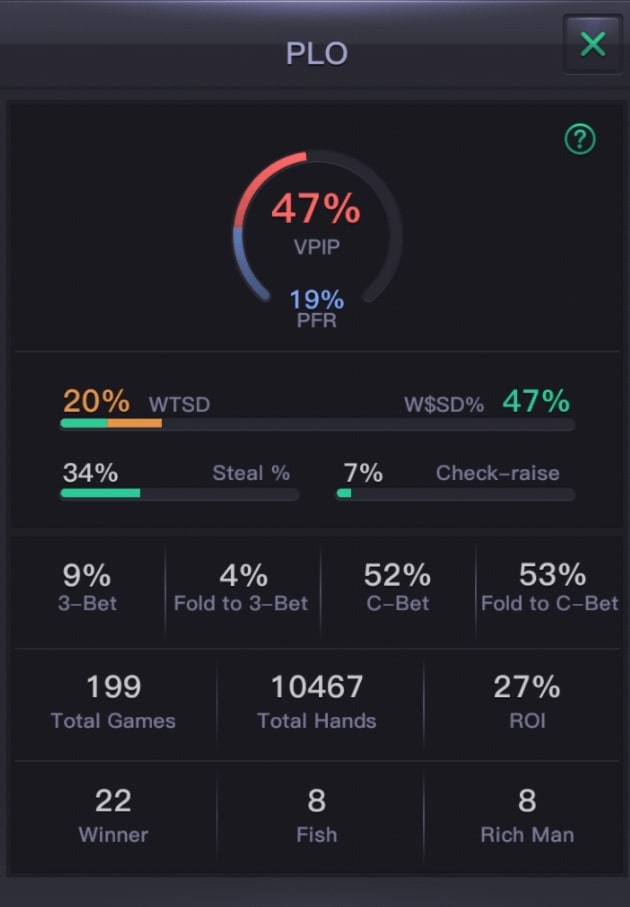 Third-party tools are available for PPPoker that are compatible with the popular databases Hold'em Manager 3 and Poker Tracker 4. Get in touch to learn more about these tools that can facilitate running a HUD just like you're used to on regular sites.

Competition Softness
Once you've made sure you're able to access the games through a reliable setup, you'll quickly find out what makes the apps so popular. Because the origin of apps like PPPoker started with live games moving online, many weak players are active. It's difficult to find a regular site with such a soft playing field as on the most popular poker apps.

Another reason is the global market that becomes more and more regulated. In some countries, it's not allowed to play online poker at all and apps became the only option to log some hands. Players located in China, Australia, the United States, and Germany, after the introduction of strict new regulations, consider PPPoker as one of the few opportunities to earn a decent income from online poker.

Worldwide access, the convenience for live players, and players located in strictly regulated markets 'falling behind' with their understanding of the game make the competition level soft in a way that is tough to find among regular sites.

When a club is known to consist of many recreational players, owners try to balance the regular/recreational ratio. Agents bringing only pros might be fined or banned from the club. The more recs are playing, the more attractive it becomes for sharks to get access to these clubs. This way, opportunities for soft games come and go.
Traffic
Although other apps like Pokerbros and Upoker are trying to have a larger piece of the cake, PPPoker is still offering plenty of traffic. Especially in Brazil as well as multiple Asian countries it's the number one app to play online poker.

Traffic varies per club. Make sure to find an agent who has access to the major Unions to make sure enough games are running during your preferred playing hours. Depending on where a club has its origin which can mainly be derived from the currency games are being played in, peak hours occur generally in the evenings and nights. 
So if you're playing in a Brazilian club, traffic peaks on Brazilian evenings. If you're playing from another country, make sure to find the time zones that suit you best. Since you can join an infinite amount of clubs, you have potential access to traffic around the clock, regardless of the time zone you're in.  

Features Explained
Multi-Tabling
Although many apps are being played via emulators, so players can enter the games via their PC and be able to multi-table, it's not necessary for PPPoker. You're able to open up to 5 tables at once via the PC version.
Resize App
You're able to resize the app to your preference by going to 'Profile', 'Settings', and clicking 'Resize Window'.
VPIP Tables
Some tables are showing in the lobby with "35%+" attached to their game name. That means a minimum VPIP stat is required in order to join as well as remain seated at this particular table.
Minimum Buy-In
Generally, the minimum to buy in for is 20 big blinds.
Call-Time
Some tables show a little clock plus 'CT' to express the call time option is being used. Call time means as soon as you're up 1 chip or more you can press the call time button and a timer runs down to 0. When time is up, you're allowed to leave the table. This is a measurement to counter 'hit and running'. 
In the center of the table below you can see that the "Calltime" for this particular game is 15 minutes.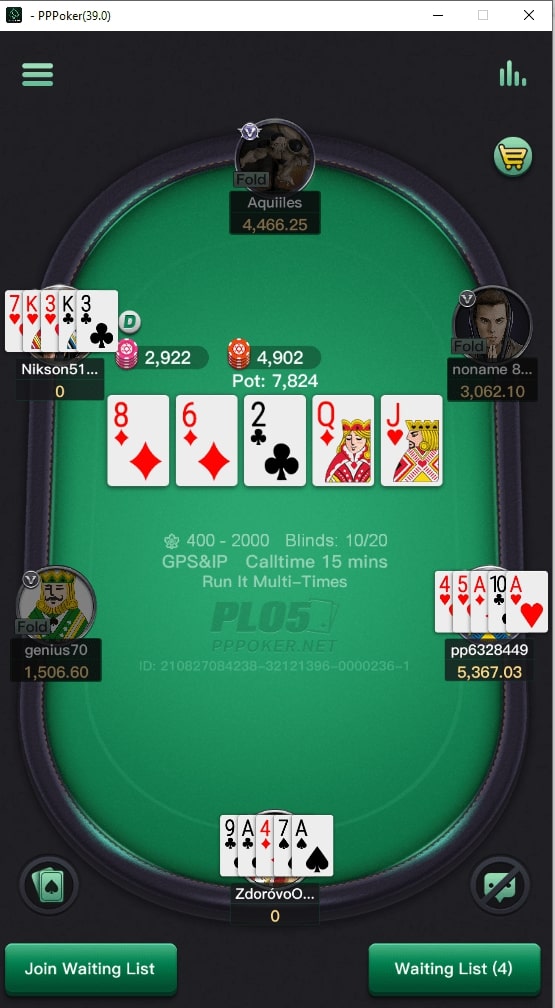 Benefits
The main advantages of playing at PPPoker are its soft competition as a result of worldwide accessibility. Being easy to use on a mobile phone attracts players from the live circuit even more.

Today, No-Limit Hold'em games are offered in pretty much all stakes. Other formats like Open Face Chinese and 6+ or Short-Deck Hold'em are available in many clubs. You can also find heads-up action in a selection of clubs. Note that the games offered differ per club.

Pot Limit Omaha games are very popular on apps in general and this also counts for PPPoker. Whether you want to play 4, 5, or 6-card PLO, stakes are offered from the micros up to high stakes. With traffic around the clock across different clubs combined, it's a great opportunity to learn and enjoy the relatively new PLO formats containing 5 and 6 hole cards!

Fast-fold poker isn't available at PPPoker but the equivalent of spins called SpinUp has been introduced lately. All-in or Fold, the popular GGPoker format, has recently been added to the platform as well.

MTTs have grown significantly while the player base grew in the last couple of years. Some tournaments offer a guarantee between $100k and $500k already. PPPoker is also hosting a couple of tournament series. For example, the PPPoker Super Tournament (PPST) online series and live events such as the PPPoker World Championship (PPWC) and other festivals.
Conclusion
Given the worldwide access of the PPPoker app, it's a great alternative to regular sites. The drawbacks are the reliability of the setup you choose. If you pick a trustworthy agent/affiliate this risk can be overcome. The rake structure could be better too in general.

That said, there are clear benefits to playing real-money games at PPPoker. The worldwide access makes the average level of competition softer than the majority, if not all, regular sites. In combination with a good rakeback deal choosing for PPPoker might significantly increase your win rate.

If you would like to check out the games with a test account or jump directly into the action, join our Discord server and get in touch with @TomSmeets#5554 or via Telegram.