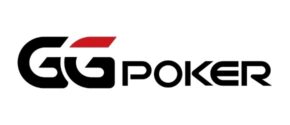 GGPoker, the Good Game Network flagship site, is one of the top 3 sites for traffic in online poker. Since its launch in 2014, GGPoker's march into the online poker domain has been nothing short of tremendous. 
The GG network tripled in size during the 2020 global pandemic lockdown and is now competing with Pokerstars to become the largest poker site in the world. 
On September 6, 2020 GGPoker even became a Guinness World Records holder for organizing an online poker tournament with the largest prize pool ever of $27,559,500.
Here is a rundown of the main tactical characteristics of the site, you can click on any term to jump to its respective section.


GGPoker's vision is heavily based on offering a great experience for the recreational player. The owners of the GGNetwork believe this will in turn attract professional players, but these measures have been under constant discussion by complaining regulars.
Additionally, GGPoker constantly spends a large amount of promotional money on huge tournament series, the introduction of new games, new formats, leaderboards, and jackpots.
GGPoker offers Omaha Hi on regular tables as well as their fast-fold format called Rush&Cash. In April 2021, the 5-card PLO format was introduced on top of the regular 4-card PLO game. 
If you like to get a better understanding of particular features on GGPoker I recommend having a look at our GGPoker Explained article.
Payment Methods
GGPoker offers the most common payment processors like Neteller, Skrill, Ecopayz, Muchbetter as well as major credit cards. On top of that, you're able to deposit and withdraw by both Bitcoin and Tether USD. Note that payment options can differ per location.
Each method has a minimum and maximum deposit limit, ranging from $10 up to $50,000. Deposits are free of charge and the withdrawal fee is $1.
Restricted Countries
Players from the following countries are able to register an account on GGPoker:
Albania, Andorra, Argentina, Austria, Bangladesh, Plurinational State of Bolivia, Brazil, Cameroon, Canada, Chile, Costa Rica, Croatia, Cyprus, Dominican Republic, Ecuador, Egypt, El Salvador, Finland, Ghana, Guatemala, Guinea, Honduras, Hungary, Iceland, Indonesia, Ireland, Jamaica, Japan, Jordan, Kenya, Kuwait, Lebanon, Liechtenstein, Luxembourg, Macedonia, Madagascar, Malaysia, Maldives, Mali, Malta, Mauritius, Mexico, Monaco, Mongolia, Montenegro, Morocco, New Zealand, Nigeria, Norway, Panama, Paraguay, Peru, Philippines, Poland, Qatar, Russia, Senegal, Slovakia, Slovenia, South Africa, Sri Lanka, Tanzania, Thailand, Trinidad & Tobago, Uganda, United Arab Emirates, United Kingdom, Uruguay, Bolivarian Republic of Venezuela and Vietnam.
Players in other countries can join through different GGNetwork skins, such as Natural8 (primarily for players in Asia), BetKings, GGPokerOK (Russia), OIybet (Finland & Baltics) or GGPuke (China).
Reliability
The Good Game Network launched in 2014 and in the past few years they've expanded into one of the market leaders. Their strategy consists of many innovations that focus on increasing the enjoyment of playing online poker and other card games as well as by putting a lot of emphasis on the recreational player.

GGPoker collaborates with the World Series of Poker and during the pandemic has been hosting the annual WSOP, which usually takes place in Las Vegas, and the 'WSOP Super Circuit Online Series'.


The GGTeam consists of ambassadors like Fedor Holz, Elky, Dan Bilzerian, and Daniel Negreanu. Ambassador teams include team Brazil, team Russia, team China, TwitchSquad, and OmahaSquad, where PLO Mastermind coach Fernando aka 'JNandez87' is a member.
Welcome Bonus
Receive $100 in rewards or a 100% match deposit bonus up to $600. Note that there's a minimum deposit amount of $20 in order to select one of the welcome bonuses.
If you're playing micro stakes, it's more valuable to choose the $100 in rewards. Here's how the $100 welcome package looks like: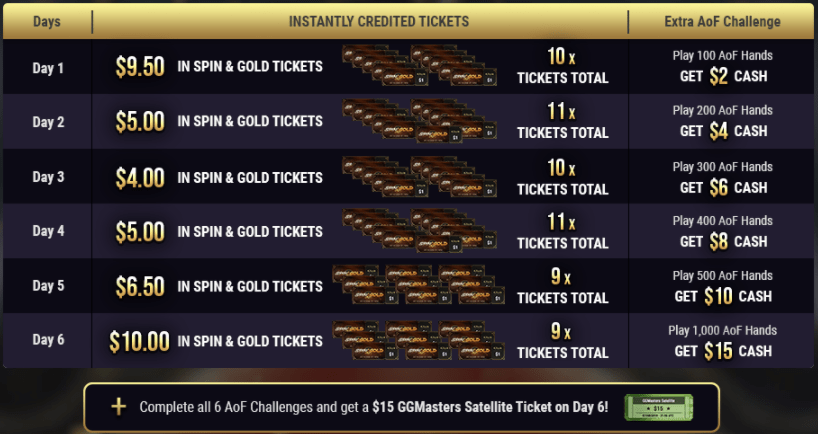 If you're planning to generate some rake it's better to choose the $600 Welcome Bonus.

You have 90 days to unlock the bonus with a clearance rate of 25%, meaning it pays out $5 for every $20 paid in PVI rake. Unfortunately, Rush & Cash action, GGPoker's fast-fold format, is excluded while clearing the welcome bonus.
Use our affiliate link to claim the welcome bonus and write 'blackcard' in the Bonus Code (Optional) section of the sign-up page to earn additional perks as Black Card member!

Rake Structure
The rake structure is different for No Limit Hold'em and Pot-Limit Omaha on the GGNetwork. The structure for NLHE is worse compared to what the average poker site offers. In PLO games, 5% is being charged per pot.
The tables show the rake caps in big blinds per stake level. For example, at PLO100 there's a 2bb, or $2 cap, whereas in a 6-max PLO10 cash game table the rake cap is 3 big blinds, or $0.30.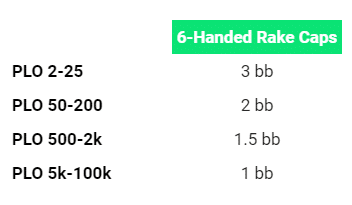 The 3bb cap for PLO10 and 25 is great compared to market conditions. 
For PLO50 and PLO100 it's better than what an average competing poker site offers, and for PLO200, it's worse.
From PLO500 and upwards you need to make the calculations whether the rake is beatable.

In order to do the calculations, take your net rakeback into account, any potential leaderboard money, jackpot earnings, and additional earnings via an affiliate. For example, link your GGPoker account to Black Card to participate in our GGPoker and Natural8 rake race.

The fast-fold format Rush&Cash has its own rake structure, namely 5% charge per pot and 3bb rake caps across all stakes offered ( $0,01-$0,02 to $1-$2 blinds) at either NLHE and PLO tables.

Many players are interested in how rake is reflecting in bb/100. By conducting our own research and comparing rake structures we come to this broad conclusion: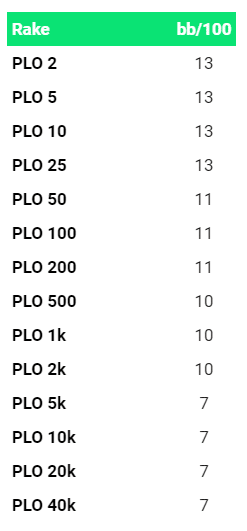 Note that bb/100 is a very subtle statistic and can vary a lot across different playing styles.
There is an additional rake charge at regular cash game tables, equivalent to 1 big blind. This is a Bad Beat Jackpot fee and is collected in all pots equal or larger than 30 big blinds. The same fee is charged at Rush&Cash tables to build the Cash Drop pool.
Rakeback
The GGNetwork uses a Player Value Index (PVI) method of determining rakeback to have recreational players benefit relatively more than regulars. Every player has its own PVI factor ranging from 0-1. This factor is then multiplied by your true rake generated.
Each new account starts with a PVI of 1, and it can fluctuate over time depending on multiple variables. The algorithm seems to be treating volume and winnings as variables that can be attached to regulars, and therefore will lower one's PVI factor over time.
Read more about GGPoker PVI.
In the following image you can see the different ranks within the Fish Buffet rakeback system.
Every new account starts out at Plankton. By earning Fish Points (FPs) you're able to climb in rank, from a Bronze Crab, to a Silver and Gold Crab, before becoming a Bronze Octopus, and so on.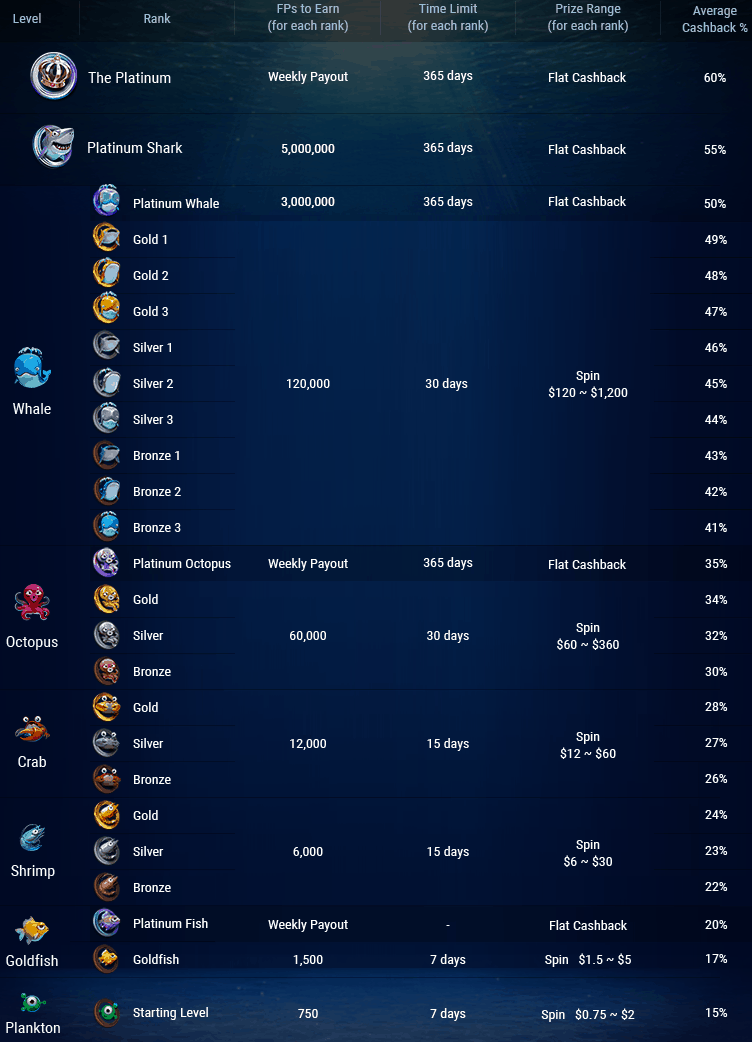 Whenever you reach a new rank, you'll be awarded a spin on the fish wheel. This spin will determine your rakeback.
Platinum Ranks
Because the variance of these spins can be high, GGPoker introduced the Platinum Ranks, featuring a fixed rakeback percentage.
Below you can see the different Platinum Ranks paying out a fixed cashback rate. For example, a Platinum Whale earns $1 per 200 FP ($2 in PVI rake) which comes down to 50% cashback.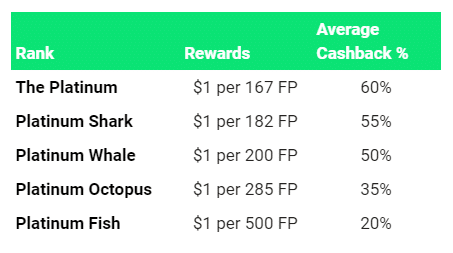 Uncollected rewards continue to accumulate each week.
For each Platinum Rank, there's a yearly requirement to maintain your status. Once you've switched to Platinum Fish your status will be maintained indefinitely, earning at a 20% cashback rate.
Promoting and Maintaining Your Platinum Rank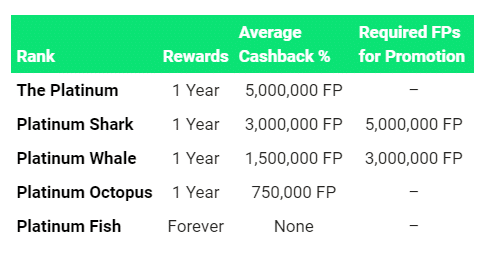 All ranks can switch to the Platinum version of the lesser rank at any moment. If you're at a Platinum Rank and want to switch back to the Fish Buffet, you can also do so.
You're unable to switch back to a Platinum Rank for the time limit related to the new Bronze rank. This means that you're not allowed to switch back to a Platinum rank for 30 days.
Database/HUD support
GGPoker has an in-built Smart HUD, which is available te be used by every player. This is the only HUD that is allowed to use on GGPoker.
The Voluntary Put $ In Pot (VPIP) statistic is shown for every player as well as an icon showing how hot or cold they are running. When you click on a player's avatar, the Smart HUD Box will pop up and show you additional information.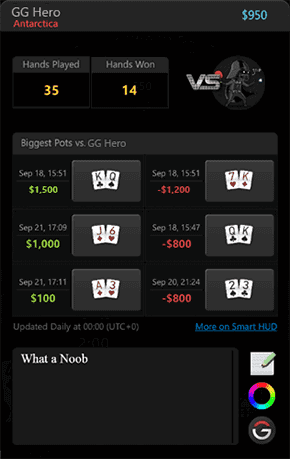 If you want to download your hand histories to analyze your game in Hold'em Manager 3 or Poker Tracker 4 you can do so via PokerCraft. Download the hand histories in .zip file and import them into your favorite database.
Traffic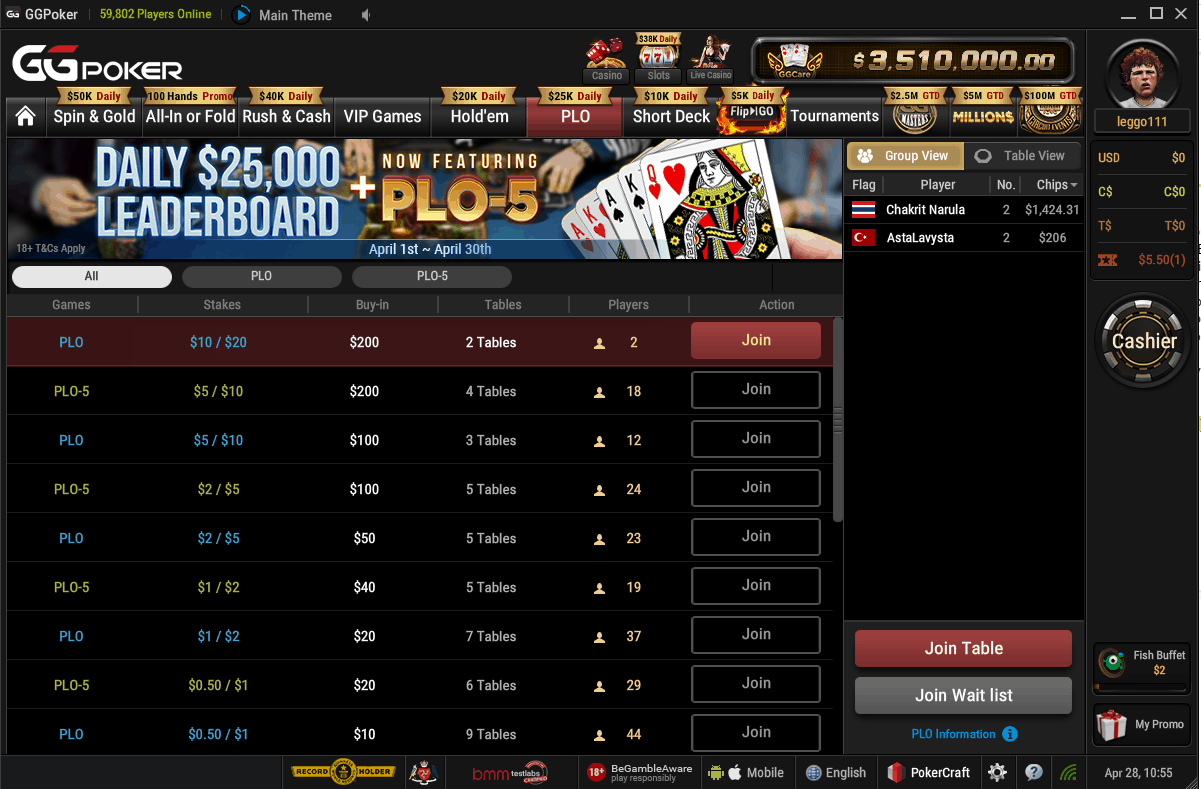 One of the greatest strengths and pull factors of the site is the combination of soft competition and traffic around the clock. You can log in at any time of the day in whatever time zone you're playing from and find multiple tables of action.

GGPoker is currently battling it out with Pokerstars on who's having the highest trafficking online poker site and as a result there's no need to find out about peak hours.
Competition Softness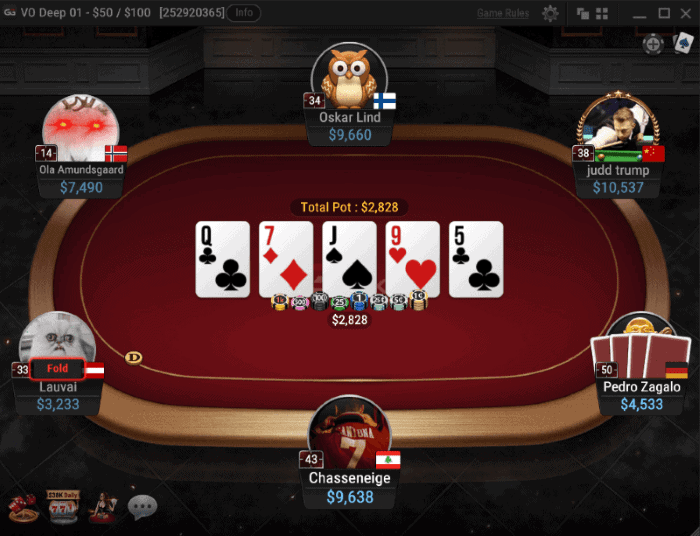 The Player Value Index (PVI) measurement is one reason the games are softer than most other online poker sites. A different reason is because of the gambling features GGPoker offers in their games. 
For example, you're allowed to straddle. This extra bet induces a lot of additional action and it's great fun for gambling players and good for the action in general.
At regular PLO tables you're also able to buy-in with a minimum of only 10 big blinds. That's way less than most other sites allow players to buy-in for and suits well for players who like to gamble it up or try a shot at higher stakes than they would usually play.
Benefits
GGPoker innovates at a fast pace to be able to offer exciting games and promotions to basically any player type. The emphasis lies on gambling with uncommon games such as Flip&Go and All-in or Fold.
At the table you will see a lot of emoji's thrown around to increase the fun part and SnapCam has the same function by recording a video of up to 15 seconds that can be shared with opponents.
Other cool features are final table betting and an integrated staking platform.

You have the option to buy a piece of your favorite player or sell some of your own action through the staking platform. Like in the screenshot below, where OmahaSquad member 'JNandez87' sells 70% of his action in the $10,300 PLO-NL Bounty High Roller tournament.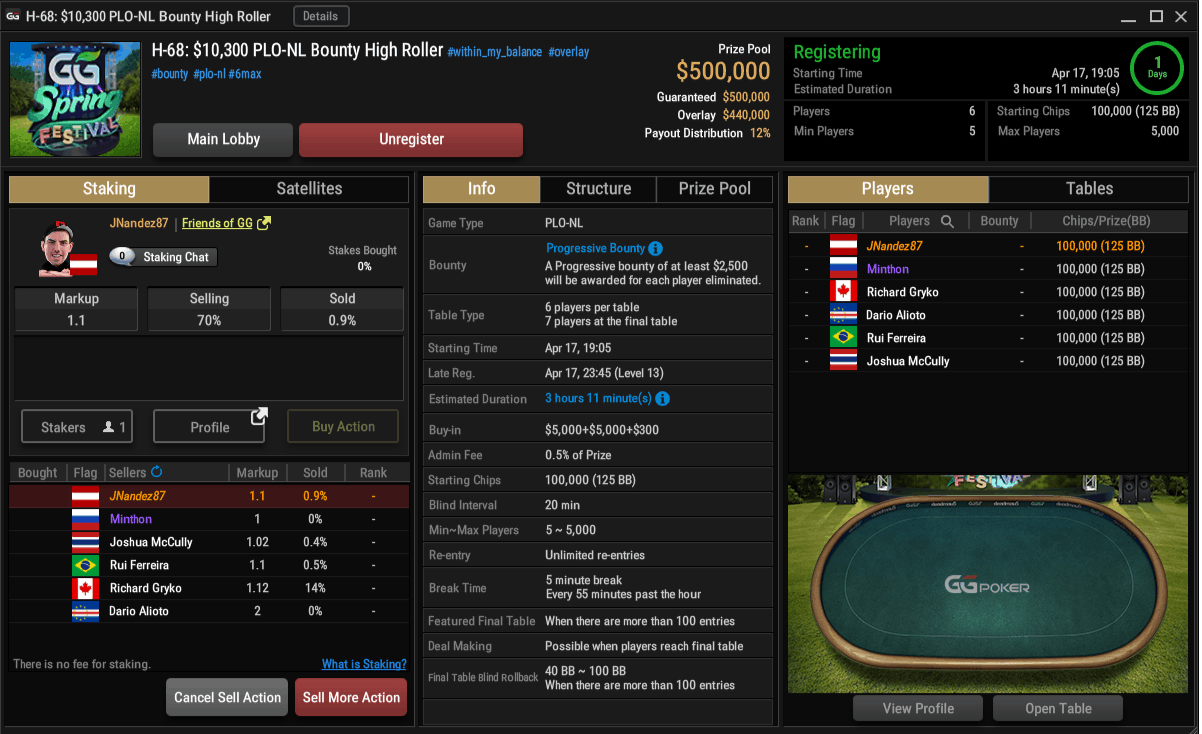 By buying a percentage you'll have a piece of potential winnings and makes it extra fun to follow the player you've invested in.
Bad Beat Jackpot
How does the "Bad Beat Jackpot" (BBJ) work on GGPoker?

If you lose a pot with a very good hand the bad beat jackpot might be triggered. The minimum requirements for the losing hand differ per format and are shown in the screenshot below.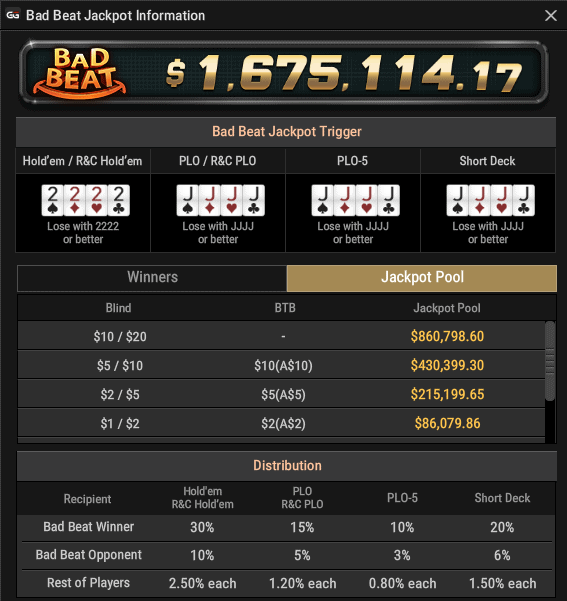 Not only the player who experiences the bad beat wins, but also the winner of the hand as well as the rest of the table profits. The payout distribution shows at the bottom of the image. Prize pools vary per stake.
In order to hit the jackpot the hand needs to go to showdown. The winner ánd the loser of the hand need to be using two hole cards to make the best combination of five cards. Winners and losers need to hold a pocket pair for quads. When the outcome of a hand is run multiple times, only the first run qualifies for the BBJ.

When the pot in any of the eligible formats is 30 big blinds or larger, 1 big blind is charged for the jackpot fund. In Rush&Cash games, only tables with 6 dealt players qualify for the BBJ. In return, no amount is charged when the table is not full.
Cash Drops
Whereas regular cash game tables have the Bad Beat Jackpot as a running promotion, Rush & Cash games offer Cash Drops. 
A Cash Drop amount ranges from an additional 10 big blinds up to even 600 big blinds added to the pot. Larger Cash Drops are divided and directly added to each player's stack.

Just like in the Bad Beat Jackpot promotion, 1 big blind is collected from every pot that equals or is larger than 30 big blinds.
Rake Races
A lot of promotional money is distributed via the leaderboards on a daily basis. Over $25k is distributed in the combined 4- and 5-card PLO leaderboards and in the Rush & Cash leaderboards over $20k is awarded.

Below is the prize distribution on the PLO leaderboard for regular tables. Your rank is determined by the stakes you're playing in as well as the number of raked hands.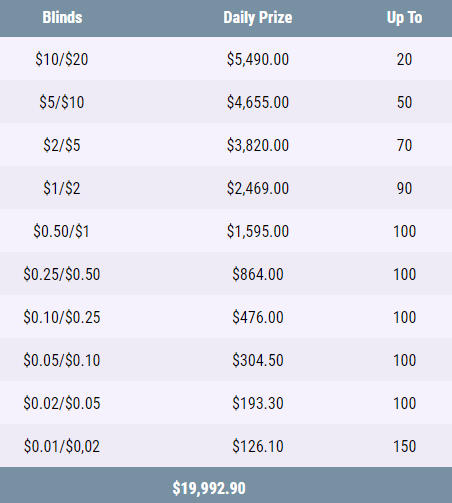 Check out the regular 4/5-card PLO leaderboards.
All prizes are paid in C$, where C$1 is the equivalent of $1 but can solely be used in cash games. Earn 1.5x points during happy hour running from 6 to 8am (GMT) every day.

In the Rush&Cash leaderboards the happy hour runs at the same time and points are doubled during this period. Here the distribution is shown per stake.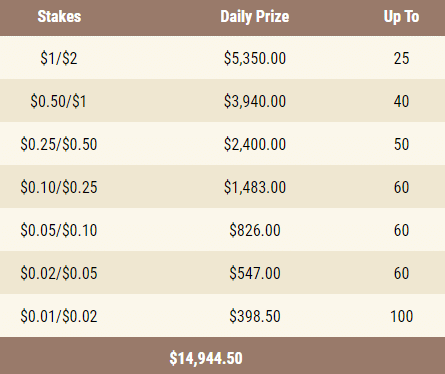 Check out the Rush&Cash leaderboards.
Link your GGPoker (or Natural8) account to Black Card to participate in our rake race and earn additional cash on top of regular site benefits!
GGCare & GGCheers
What is GGCare and GGCheers?

GGCare and GGCheers offer the same daily flip-out tournament with $100,000 in prizes. The tournament is automatic and you don't need to be online when the tournament is taking place. Registration for the tournament takes place automatically as well.

There are two ways to qualify for the #ThanksGG $100k flip-out. When you lost a hand through a bad beat, suckout or cooler, you might be invited to the flip-out through the so-called GGCare. GGCheers is now added and is the second way to qualify by scooping a big pot or winning a big hand.

In the flip-out, you can win extra C$ that will be added to your account after the tournament finishes. For every additional qualifying hand your tournament starting stack will increase.

The exact details are varying per game and are subject to change over time. Hold'em, Omaha, All-in or Fold, Spin&Gold, Short Deck and Rush&Cash are formats that are eligible for this promo.
GGCare and GGCheers hands can be checked in the ThanksGG Flipout Tournament lobby or under 'My Tournaments' on the PokerCraft timeline.
PLO Tournaments
Here's an overview of the daily PLO tournaments GGPoker has to offer, called 'Omaholic' tournaments. The first Omaholics tournament series was held in March 2021 and more PLO tournament series are to be expected.
During the Omaholics series PLO-NL was introduced. Preflop the game is pot limit, and after the flop you are able to overbet the pot since the format changes to no limit. Up until now, this format is still being used for all daily Omaholic tournaments.

Conclusion
With traffic around the clock, offering soft games in combination with a more than decent reward system, GGPoker is a great place to play online poker.

For recreational players because of the fun experience and rewards in general, and for pro's and grinders because of the relatively soft competition level, good rewards and access to juicy games 24/7. 
Especially for serious players at stakes PLO100 and lower it's a great option and that's why we even included it in our top 3 online poker sites to play Pot-Limit Omaha today.

Are you interested in joining GGPoker? Make sure to sign up via Black Card and link your account to earn extra rewards on top of the GGPoker promotions! Become a Black Card member.

Black Card promos for GGPoker linked accounts:
GGPoker (& Natural8)

Rake Race

Collect 10,000 leaderboard points lifetime to receive free access to the PLO Mastermind for one month

Participate in the weekly

PLO

Bonanza

tournament. Play 100 hands between Monday and Sunday in order to receive a free ticket.

The Big BAAAM!

, our exclusive $2,000 monthly freeroll at Partypoker every last Saturday of the month.