If you are making deposits, withdrawals to and from GGPoker, Partypoker, or Natural 8, this can help you save money.
As poker players, we're used to transferring money to and from poker sites, bank accounts, and player-to-player transfers. Most often there's a company in between that facilitates these transactions in exchange for a fee.
In the early days, it was mainly Skrill and Neteller. Today, there are more options, like a relatively new player called: Luxon Pay.
This company was established in 2018 and has a rapidly growing customer base. One of the co-founders is Rob Yong, the owner of Dusk till Dawn casino and partner of Partypoker.
Not surprisingly, Luxon Pay has focused on the poker market and is already offered as a payment processor by GG and Party.
How Much Money Are You Burning With Fees?
Small percentages can add up quickly, so as a poker player, it's important to minimize the fees you're paying.
When I played high-stakes poker between 2009 and 2013, and before knowing about how to get quick access to VIP levels, I transferred tens of thousands and ended up paying thousands of money in fees.
I remember reading a post on a poker forum that it was important to create a Skrill or Neteller account in US dollars as a European, to avoid the costs of depositing into and withdrawing from poker sites.
As a result, in order to cash out to my bank account in Euros, the currency needed to be converted which meant I had to pay an additional conversion fee.
Let's look into a simple example of a transaction of mine from March 2022: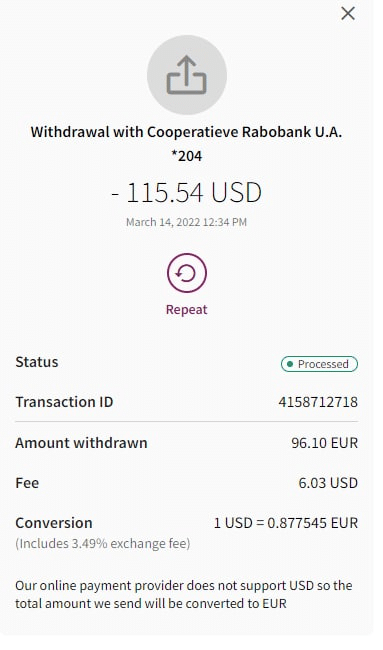 Cash-out: $109.51 (€99.54)
Exchange rate 1 USD = 0.909 EUR
Cash-out fee: $6.03 (€5.48 or 5.5%!)
Currency exchange fee: $3.79 (€3.45 or ~3.49%)
So, for my $109.51 (€99.54) cash-out, I paid $9.82 (€8.93) paid in fees
Bottom line: ~9% less on your money.
This is just a hundred-dollar transaction, what happens if you need to cash out thousands this way, multiple times a month?
How Do Luxon Pay Fees Compare to Skrill?
Here's a table showing the fees for the lowest and highest VIP levels of both Skrill and Luxon Pay.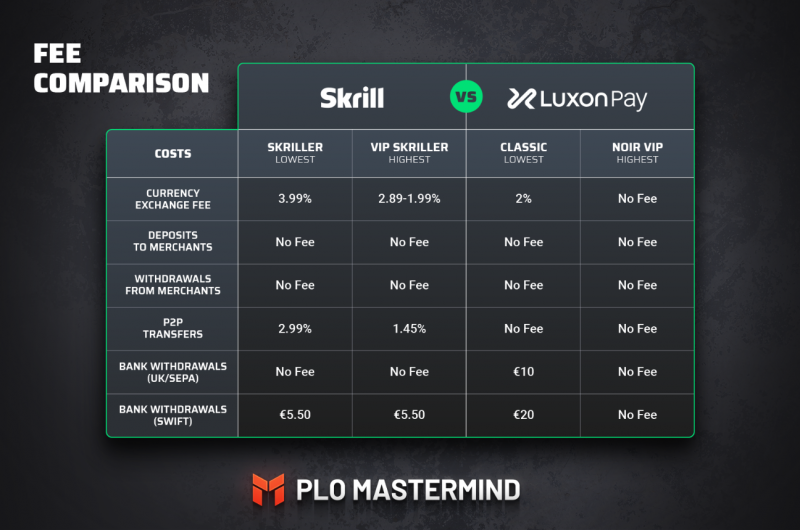 As you can see, there's a pretty heavy exchange fee on Skrill regardless of the VIP level.
Also, Skrill has player-to-player transfers fees, while Luxon Pay doesn't.
For bank withdrawals, there can also be costs involved depending on your VIP level.
How To Quickly Get Upgraded to Noir VIP Level on Luxon Pay
And here's some good news!
Usually, getting upgraded to the Noir VIP level for Luxon Pay usually takes depositing more than €30,000 to merchants per quarter.
But by signing up through our PLO Mastermind link, we're able to offer you a temporary upgrade the Noir VIP level on Luxon Pay, by depositing just €100.
No fees for 3 months, whether it's for transferring money to your friends or for business purposes, exchanging funds into a different currency, or withdrawing money to your bank account.
This VIP upgrade lasts for one quarter (3 months) and has no extra cost to you. That said, even when the upgrade runs out, Luxon Pay can be the most valuable option with minimal conversion fees and no P2P transfer fees.
So here are the simple steps to take if you're interested in being quickly upgraded to the Luxon Pay Noir VIP level:
Right click and open this link in a private/incognito window: https://plomastermind.com/luxon-pay

Create a Luxon Pay account and make a €100 minimum deposit to a merchant.

Send your Luxon Pay sign up email address to:

[email protected]
I'll be in touch via your submitted email address once your VIP level has been upgraded!
Remember, in case you don't have the VIP upgrade on Luxon Pay, you'd need to deposit more than €30,000 to merchants every three months to earn and retain this Noir VIP status.
Restricted Countries
At the time, Luxon Pay can't be used by all countries in the world, unfortunately. If you're in the US, sorry – this isn't for you.
And here's the full list of non-eligible countries:
Albania
Belarus
Bosnia
Burma
Central African Republic
Democratic Republic of Congo
Democratic People's Republic of Korea
Côte D'Ivoire
Crimea region of Ukraine
Croatia
Cuba
Iran
Iraq
Kosovo
Lebanon
Liberia
Libya
Macedonia
Palestinian Territory
Serbia
Somalia
Sudan
Syria
USA
Venezuela
Yemen
If you live anywhere else, go ahead and create a Luxon Pay account using this link, make your minimum deposit of €100 and contact us to get your VIP upgrade!
If you aren't able to create an account on Luxon Pay, make sure to compare the options for transfer and payment processors that are available to you, and analyze the fees at least 3 times a year.