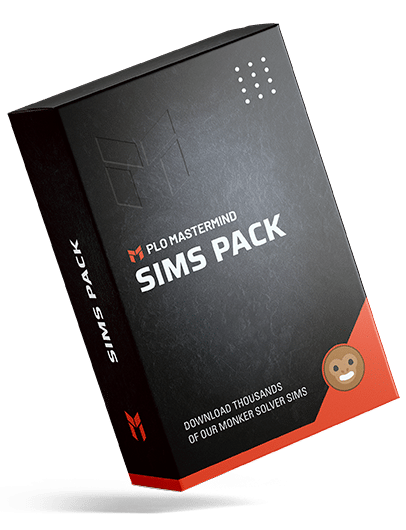 PLO Mastermind Sims Pack (Requires Monker Solver)
The PLO Mastermind Sims Pack includes thousands of simulations, both preflop and postflop, for different stack sizes and rake structures. It includes 6-max, heads up, and and PLO MTT ranges.
Click here to preview the sims pack contents.
Each postflop scenario is run on 271 different flops, so you will often be able to find the scenario you want to see the Monker Solver solution for, or choose a very similar flop. Loading and browsing the sims requires a Monker Solver license and 16 GB RAM or virtual machine.
You can watch our Monker Solver tutorials with a free PLO Mastermind account to learn everything you need to know to install the PLO solver all the way up to renting a virtual machine and running turn and river PLO simulations from our flop sims. Read the FAQ below and reach us at [email protected]
How many sims are these?
All postflop sims are run on 271 different flops each, totaling up to over 5,000 simulations.
To view the solutions for turn and river we suggest solving for the specific runout on the postflop sim. Watch our free Monker Solver TUtorial course to learn how.
What do I need to view the PLO sims?
You need an active Monker Solver license, which you can get at monkerware.com We are not affiliated with their product.
16 GB RAM is enough to load and browse our sims. Smaller simulations including the HU preflop 100bb sim can be opened with 8 GB RAM or less.
Where are the sims stored?
They are stored in Google Drive. Once purchased, your email address will be given access within 1 business day.
Can I download all the files at once?
We recommend you download the preflop sims once and store them on your computer. For the postflop sims, download whichever you are working with. You can delete them and simply download them again if necessary as they are typically 1 GB or smaller.
If you'd like to download all the files, please consider Google has obscured the functionality required to sync files from a shared google drive to a local PC.
To do so, try the following:
1. Create a folder in your local Google Drive for the sims, name it "Monker Sims".
2. Access the shared Google Drive you receive from us.
3. Select the folder you want to sync and then press SHIFT + Z.
4. This will bring up a context menu. From there you can select My Drive -> Monker Sims folder -> ADD.
This will add the folder to your local google drive and allow it to sync to your local PC.
When will the sale end?
Soon, we are actively working on our PLO software and once available we will remove the sale of Monker Solver simulations.