The World Series of Poker is the largest and most prestigious poker event there is. The 52nd annual WSOP will be held in Rio All-Suite Hotel and Casino, and will run non-stop events from September 30 until November 23.
WSOP's flagship series was postponed in 2020 due to the COVID-19 global pandemic, but this year's situation appears more favorable for live events to take place. 
All events will be carried out following any required health protocols, although the poker tables will not have plexiglass dividers between players.
Throughout the storied history of the WSOP, this year will be particularly memorable… we're beyond thrilled to offer a complete schedule of can't-miss events including all our flagships and the variety players deserve.

– Ty Stewart, WSOP's Executive Director
This year's series will have some interesting innovations, like live (No Limit Hold'Em) Flip & Go events presented by GG Poker, and the highest-ever buy-in for a WSOP PLO event ($50,000 buy-in for event #84). 
Additionally, the series will have a different broadcast partner this year. From pokernews.com:
"The 2021 World Series of Poker has a new broadcast partner in CBS Sports offering increased coverage for the duration of the series. An unprecedented 18 different bracelet events will be televised with a minimum of 15 hours of coverage of the 2021 Main Event, produced exclusively by Poker Central."
Tournament Selection Tips
Why play PLO tournaments? In the following clip from our Tournament Strategy course, JNandez talks about on of the differences between PLO cash games and PLO tournaments.
There are important tactical differences when it comes to the structure of a tournament. In the following section, we share quick insights on the main structural elements that take place in the WSOP PLO tournaments. For a deeper dive, don't miss out on our PLO tournament strategy article.
Starting Chips and Levels
You will see different starting chips and blind levels going up every 30, 40, or 60 minutes. Divide the starting chips by the the big blind amount at a specific level (2 hours, for example), this will give you your stack size in BB.
Compare this number between different events, and choose the best structure for your strategy, or the other way around.
Shallow Stack Sizes
The amount of starting chips will have a significant effect on your strategy.
Shallow stacks require a tighter pre-flop approach, and position and deceptiveness matter more. Raising the pot commits a bigger portion of your stack, so you have to be more careful with your sizing.
Re-Entries
You can open for larger sizes and force more action early in the game when you still can rebuy or re-enter, aiming to build a bigger stack that will give you an edge later on. Keep in mind that it's still not an excuse to make mistakes and gamble it up.
Tournament Structures & Schedules
The buy-in for this year's WSOP events ranges from $400 to $250,000. And out of the 105 events Omaha will take part in 25, of which 8 will be exclusively Pot-Limit Omaha tourneys. Check out the schedules for the PLO tournaments in the table below:
All PLO-exclusive tournaments will be in 8-handed tables, except for event #80 (6-Handed PLO) which will be 6-handed. And all of them allow for 1 re-entry, except for event #45 (PLO Championship) which will have no re-entries.
Make sure that the structure you choose is beatable and worth your time. It's also recommended to enter the tournament as early as you can, right from the beginning, to increase your edge.
WSOP COVID-19 Rules
The most recent update is WSOP's tweet that mentions "Participation in the 2021 WSOP will require proof of full vaccination against COVID-19 prior to first registration."
From their own webpage, here's the information for the 2021 Registration Requirement.
Players over 21 years of age seeking to participate in the 2021 WSOP must provide proof of being fully vaccinated against COVID-19 prior to registration. This includes all WSOP bracelet events, side events, satellites and live action or cash games. In order to be considered "fully vaccinated" you must receive your final vaccine dose at least 14 days prior to your entry date. The Rio All Suite Hotel and Casino reserves the right to modify any and all Official Tournament Rules at any time in the interest of health and public safety, including, but not limited to adding any requirement that a Participant must be fully vaccinated and/or complete certain testing or screening in order to participate or continue to participate in the WSOP.
The WSOP had previously updated their tournament rules and included a paragraph regarding the COVID-19 virus and disqualification. Here is a screenshot from the official WSOP Tournament Rules.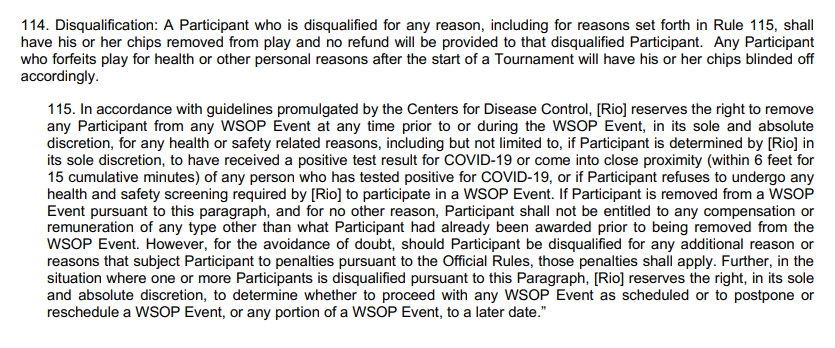 On August 14, the WSOP shared a tweet that read 'Players, please see clarification on WSOP rule 115':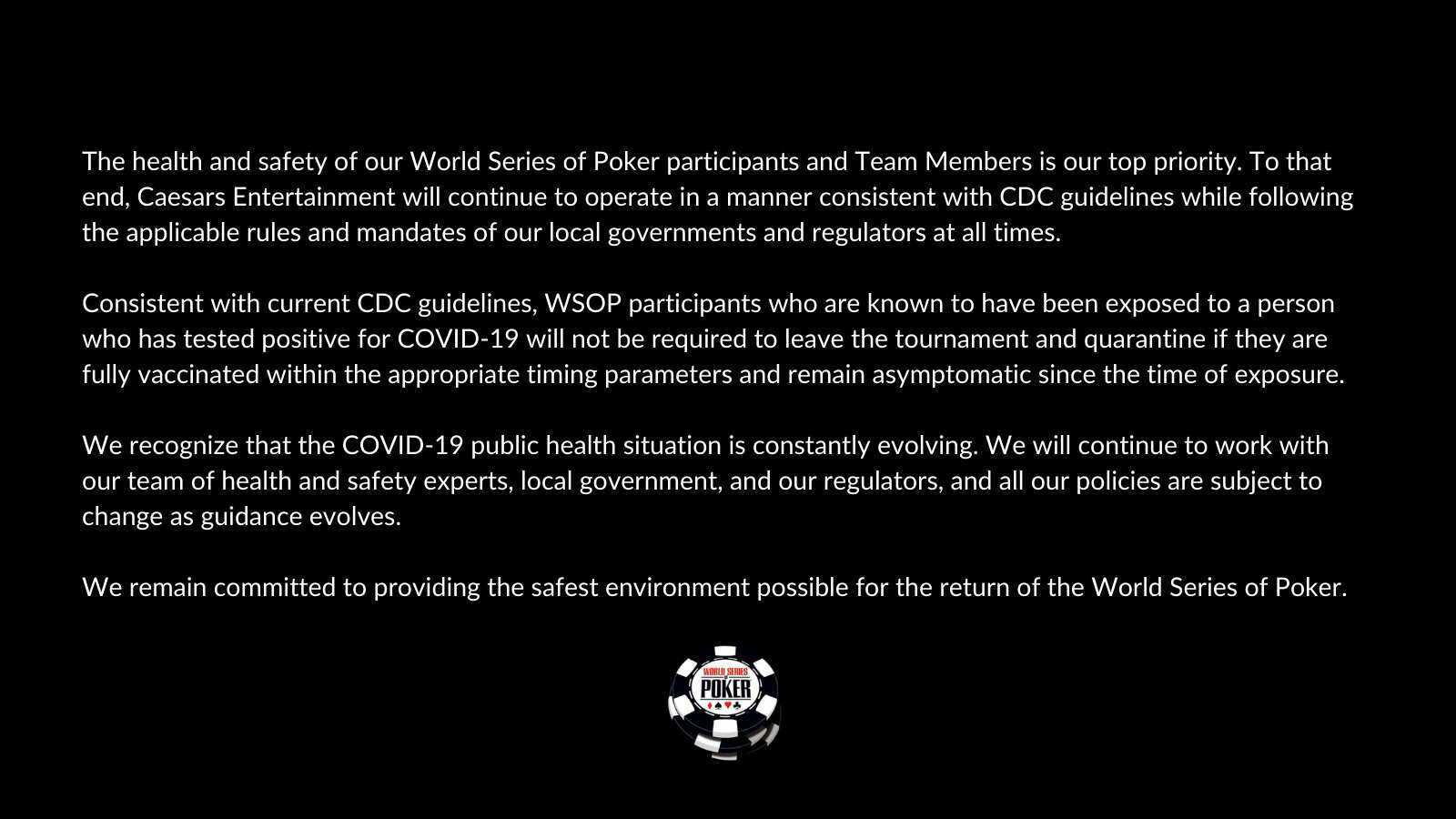 Travelling and Accommodations
Although the travel ban for Europeans was extended during the end of July, the White House announced on the 20th of September that the Biden administration will allow fully vaccinated travelers from around the world to enter the U.S. beginning in November.
Fully vaccinated travelers will need to complete pre-departure testing within three days prior to their departure to the U.S. They will not be required to quarantine upon their arrival.
As a result of this, the World Series of Poker has added two more flights to the 2021 main event, as they communicated on Twitter:
ATTN INTERNATIONAL PLAYERS!

In response to recent news of the easing of travel restrictions into the US, we are pleased to announce the addition of two more Day 1 Main Event flights:

Nov 8 Day 1E 11a
Nov 9 Day 1F 12p

Registration now closes @ 3:40pm on Nov 10 (Day 2CEF)

— WSOP (@WSOP) October 16, 2021
Here's what pokernews.com mentioned about the recent changes:
Day 1E and Day 1F, the two new flights, shuffle up and deal on November 8 and November 9, respectively. Also on November 9 is Day 2 for the players who navigated their way through Day 1A, 1B, and 1D.

November 10 sees the survivors from 1C, 1E, and 1F combined for their Day 2.

It is safe to assume the rest of the Main Event will follow the original schedule but one day later than originally advertised.
The Rio All-Suite Hotel and Casino and all Caesars Entertainment resorts in Las Vegas will offer reduced hotel room rates for entrants of WSOP bracelet events using the booking code "WSOPM" when booking early (based on availability, and subject to change).
How to Register for a WSOP Event
Online registration
WSOP encourages players to sign up for events through online means. WSOP uses www.BravoPokerLive.com to manage said registrations starting August and registering is completely free.
Players who are registering online will have to visit the Belize Ballroom to validate their ID.
Once verified, players can pick event(s) online via Bravo, print their seat cards at the self-service kiosks located throughout the Rio Convention Center, and go directly to their table.
In-Person Registration
Main registration will take place in the Tropical Ballroom, near the back end of the Rio Convention Center, with more stations added to both the main registration cage and the VIP cage.
Hours of operation begin Thursday, Sept. 30 at 9:00 a.m., and will remain open 24 hours a day, non-stop through Tuesday, Nov. 23.
Guests are required to present valid photo identification and payment to enter events.
International Players Applying for an ITIN
International players are required to bring an additional form of identification that shows residential address, such as a signed lease agreement, a utility bill or a mobile phone bill.
Methods of Payment
Acceptable forms of payment include:
Cash, credit/debit cards (Visa, MasterCard, Discover or American Express), ACH, wire transfers or cashier's checks drawn from the registrant's accredited bank account and made out to Participant or Rio, Rio gaming chips, Rio Tournament Buy-In Chips, or Tournament Buy-In Credit.
Participants using credit/debit cards must have a valid ID that matches the cardholder name present on the credit card used for the transaction, and additional fees will be incurred on all ACH/credit/debit card transactions.
Wiring funds to WSOP Tournament Account
Players can wire in funds for WSOP events or place money on the account when they arrive.
After setting up an account at the WSOP Main Cage in the Tropical Ballroom, the player will have the option to register online or via mobile device (via www.BravoPokerLive.com) with the funds used to initiate the account and simply print seat card(s) at one of the kiosks – avoiding the need to use the registration line to enter events.
Payouts
Players can request one of the following methods of payment: cash, wire transfer, casino chips, check, or tournament account deposit.
To help relieve pressure, create efficiencies, and reduce wait times, players will be able to begin the payout process in Palma prior to collecting their winnings at the WSOP Main Cage in the Tropical Ballroom.
Those who have a Bravo Tournament Buy-In Account can direct funds back to their account.
Conclusion
It's great that the WSOP is returning to the live felt again this year!
The COVID pandemic might induce traveling restrictions so make sure you're allowed to visit the US from your country. Currently, Europeans are not allowed to visit the US but it's expected that this ban will soon be lifted.
Just a couple more weeks before we can hear the legendary "shuffle up and deal" again!