PokerStars is the most famous brand in online poker. Real money games were first introduced in December 2001 and they took over the first place being the world's largest online poker room in 2006 when Partypoker withdrew from the US market. Today, they're competing with GGPoker on who's to be the top online poker site.

Here is a rundown of the main tactical characteristics of the site, you can click on any term to jump to its respective section.


With their superior software, huge tournament offer, and most traffic of all online poker sites, PokerStars was able to rest on their laurels for the past decade so to speak, and still remain number one. However, they had to acknowledge the exponential growth of GGPoker during the last few years and are currently battling it out for the top spot, traffic-wise.
After removing the famous Supernova Elite rakeback program the focus went clearly on attracting and retaining gamblers and newish players. Rakeback became intransparent and was reduced enormously resulting in a lot of regulars looking for another online poker home.
With the introduction of their new rakeback system, they've made a statement that regulars and high-stakes players are welcome and being valued again.
PokerStars is the home to play different variants of poker from Stud, Razz, drawing games like Badugi, HORSE and other mixed games, as well as Limit and No Limit Hold'em. The Omaha games that are being offered are Hi/Lo, Courchevel and 4, 5 and 6-card Pot Limit Omaha.
PokerStars Europe
There's a separate PokerStars player-base containing players from France, Spain, and Portugal only. These countries have a shared liquidity pool and the site is ranked in 5th place in terms of traffic, based on pokerscout.
PokerStars US
Yes, currently you're able to play PokerStars from three States, namely: Michigan, Pennsylvania, and New Jersey. Each state has its own pool of players but it's expected that in the future PokerStars will be able to combine the player pools.
It's very likely that other States will follow in the coming years when they've legalized PokerStars.
Check out where to play Omaha poker in the US.
Restricted Countries
The following countries and territories are blocked from real money activity:
Australia, Bangladesh, Colombia, Egypt, French Polynesia, Jordan, Kenya, Malaysia, New Caledonia, Nigeria, North Macedonia, Pakistan, Serbia, United Arab Emirates, USA (except where locally licensed)
The following countries and territories are blocked from real money, freemium, and play money activity:
Afghanistan, Aland Islands, Anguilla, Antigua and Barbuda, American Samoa, Antarctica, Benin, Bouvet Island, British Indian Ocean Territory, Brunei Darussalam, Burkina Faso, Central African Republic, Chad, Christmas Island, Cocos Islands, Comoros, Congo, Democratic Republic, Congo – Brazzaville, Cook Islands, Cuba, Dominica, Djibouti, East Timor, Eritrea, Ethiopia, Falkland Islands, Fiji, French Southern Territories, Gambia, Grenada, Guam, Guinea, Guinea-Bissau, Guyana, Haiti, Heard Island and McDonald Islands, Holy See (Vatican City), Hong Kong, Iraq, Israel, Kingdom of Bahrain, Kiribati, Kuwait, Lesotho, Libya, Malawi, Mali, Marshall Islands, Mauritania, Mayotte, Micronesia, Montserrat, Mozambique, Myanmar (Burma), Nauru, Niue, Niger, Norfolk Island, North Korea, Northern Marianas Islands, Palau, Palestinian Territories, Pitcairn, Puerto Rico, Qatar, Rwanda, Saint Vincent and Grenadines, Saint Helena, Saint Martin (French Part), Samoa, Sao Tome and Principe, Saudi Arabia, Senegal, Sierra Leone, Singapore, Sint Maarten (Dutch Part), Solomon Islands, Somalia, South Africa, South Georgia and The South Sandwich Islands, Suriname, Sudan, Svalbard and Jan Mayen, Swaziland, Syria, Tanzania, Tokelau, Togo, Tonga, Turkey, Turks and Caicos Islands, Tuvalu, U.S. Minor Outlying Islands, U.S. Virgin Islands, Vanuatu, Wallis & Futuna Islands, Western Sahara, Yemen, Zimbabwe.
The following countries and territories are blocked from real money and freemium activity:
China (including Macau), Cyprus, Tamil Nadu, Andhra Pradesh, Telangana, Assam, Odisha, Sikkim and Gujarat (States in India), Iran, Taiwan, Washington (State in the USA)
The following countries and territories are blocked from freemium activity:
South Korea
Payment Methods
Pokerstars offers the most common payment processors like Neteller, Skrill, Ecopay, Muchbetter, as well as the major credit cards and Webmoney. Note that payment options can differ per location.

Each method has a minimum and maximum deposit limit. Credit cards have a minimum deposit amount of $5 and the other methods $10. The maximum is $10,000 on deposits and withdrawals. To withdraw to credit cards the minimum amount is $100 and $10 for the other methods. Both deposits and withdrawals are free of charge.
Reliability
Being the most successful online poker site in the industry and yet running its operations for over 20 years, PokerStars is one of the most reputable brands in the market. They're active in a lot of countries where players have restricted access to poker sites due to strict gambling regulations, such as France and Portugal.

New Jersey, Michigan, and Pennsylvania are the first states in the US where you can access PokerStars again. It's to be expected that more will follow in the coming years since more states start legalizing online poker. Players from Italy and India can play against their fellow countrymen in a separate pool on PokerStars.

Next to their online operations, PokerStars is very active in the live poker scene. They're sponsoring the following poker tours: the European Poker Tour (EPT), Asia Pacific Poker Tour (APPT), Brazilian Series of Poker (BSOP) and their own PokerStars Players No Limit Hold'em Championship (PSPC).

They're also sponsoring two card rooms, one is the Okada in Manila and the other the Hippodrome Casino in London.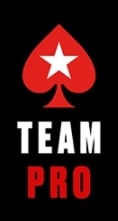 PokerStars has a whole team of ambassadors representing the brand at live events as well as online. To name a few: Andre Akkari, Jennifer Shahade, Ben "Spraggy" Spragg, Parker Talbot, Felix Schneiders, Lex Veldhuis, Ben "Bencb789" Rolle and many more.

PokerStars offers a mobile app for smartphones that is compatible with iOS and Android systems. Similar to the client software, the mobile functionality and user experience are probably the best in the market.

Welcome Bonus
A minimum deposit of $10 by new players will be matched as a bonus up to a maximum of $600. Make sure to use the PokerStars bonus code 'STARS600' while depositing.
If you prefer to receive the $30 free play tickets, make a minimum deposit of $20 and use the bonus code 'THIRTY' to claim this welcome offer. The extra play will be awarded in the six following days as shown.
| | | |
| --- | --- | --- |
| | | 5 chances to win up to $10,000 |
| | | 5 chances to win up to $10,000 |
| | | 5 chances to win up to $10,000 |
| | | Try any games of your choice |
| | | 5 chances to win up to $10,000 |
| | | Try any games of your choice |
The up to $600 welcome bonus expires in 120 days which is a long period compared to what other poker sites are offering. The clearance rate of the bonus is 20% and the bonus pays out in $5 parts. If you deposited $100, the bonus clears in 20 parts of $5.

For every dollar in rake generated you'll earn 5 redemption points. The $5 bonus will be credited when reaching 75 redemption points, or $25 raked. To clear a $200 bonus, $1,000 needs to be raked.

In order to make maximum use of the first deposit bonus you need to rake $3,000 within four months to clear the full $600 after making an initial deposit of at least that amount.
Rake Structure
A similar rake structure to No-Limit Hold'em applies for Pot-Limit Omaha. The rake structure for low stakes is better compared to the average market conditions. Although effectively the rake caps are hardly ever met, the lowered percentage charged per pot is beneficial since most sites are charging 5%.

For the PLO50 to 200 stakes, the rake structure is better than the regular 5% and $3 cap. From PLO400 to 600 the structure is pretty much in line with the market, definitely not worse. At the high stakes, from PLO1k and higher, PokerStars is clearly outperforming competitors.

Rake caps are showing for 6-handed tables including the percentage charged per pot.
A lot of players are interested in how rake is reflecting in bb/100. By conducting our own research and comparing rake structures we come to this broad conclusion:
Note that bb/100 is a very subtle statistic and can vary a lot across different playing styles. Since it's a question that often returns I hope it's still valuable as a general reference.
Rakeback
In 2017, PokerStars removed their famous Supernova Elite program where high volume players earned up to around 69% in rakeback after generating $100,000 in rake in a single year.
Then the Stars Rewards program was introduced. Many regulars left as this shift led to an average long-term rakeback of around 5%. In 2019, the value of the 'chest rewards' was reduced even further.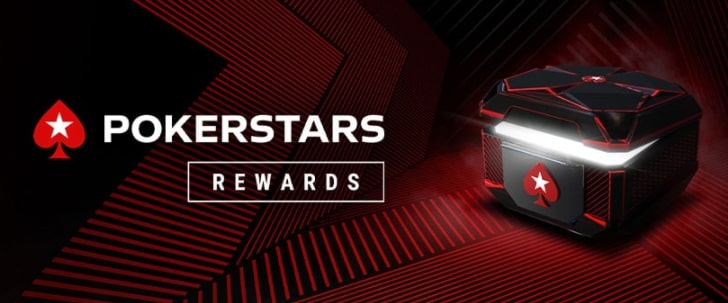 On October 1, 2021, PokerStars introduced its new rakeback system. The same six chest tiers are being used although the value is static this time, not variable. Players earn a minimum of 15% rakeback and this can grow to a fixed 25% by raking $1,000 in a month, as you earn 100 rewards points per $1 raked.
| | Reward Points Requirements | Number of Chests to Level Up | | | Monthly Poker Challenges % |
| --- | --- | --- | --- | --- | --- |
| | | | | | |
| | | | | | |
| | | | | | |
| | | | | | |
| | | | | | |
| | | | | | |
Monthly challenges are offered in addition that can add up to another 40% in rakeback. These challenges are customized. Some players are offered a challenge where you can earn an additional 10%, whereas someone else can gain 40% by completing his challenge. The difficulty of completing a challenge varies as well. The new system is much more transparent compared to the prior reward system.

If you rake over $1,000 a month and complete your 10% challenge, you'll earn 35% rakeback. If you rake the same amount and complete a 40% challenge, you'll even get 65% in rakeback.

Note that the monthly challenges are not available to players in Greece and the Czech Republic.
Database/HUD support

You're able to use your favorite database on PokerStars, such as Holdem Manager 3 or Poker Tracker 4.

If you start the head-up display (HUD) while playing, it will show you the important stats of your opponents' tendencies. You can select the stats you like to see in-game within the database under the 'HUD editor'.
Subscribe to our newsletter to receive a FREE HM3 HUD file made by PLO Mastermind's small stakes coach Luuk Botter.
(We don't spam and you can unsubscribe any time.)
Check out the video below for Luuk's overview of the included stats.
To import the HUD profile into Holdem Manager 3, follow these steps:
Click on 'HUD editor' from the 'HUD' dropdown menu.
Click on Options>Import profile (within the editor).
Open the downloaded file and edit the name to your liking.
Select it from the 'Profile' dropdown menu.
Try Holdem Manager 3 or Poker Tracker 4 one month for free.
Competition Softness
When the Supernova Elite rakeback program was removed, the level of competition became a lot softer at PokerStars. Still, many players stayed because the software is so convenient and they were able to put in a lot of volume at Zoom tables, PokerStars' fast-fold format. Besides, it wasn't really clear what rakeback percentage players were able to earn because the program lacked transparency.

In the following years, it became clear that the long-term rewards were close to 5% or even less and most regulars started looking into other options. At this time, the competition softness was likely at its peak as many pros and high-volume players left the site.

PokerStars has limited the number of tables you can play cash on to a maximum of 4. This way they try to balance the ecosystem and protect the recreational players. On the other hand, the newly introduced rakeback system is clearly focused on attracting more regs again and retaining them. Therefore it can be expected that the competition level will rise and games become tougher as a result.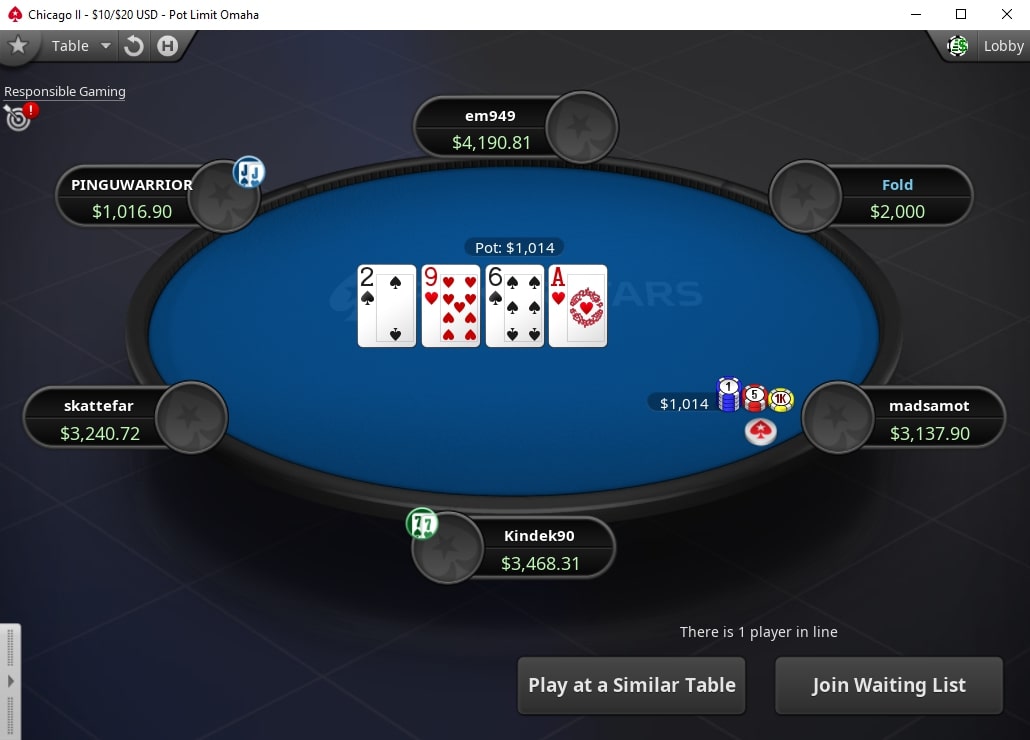 Traffic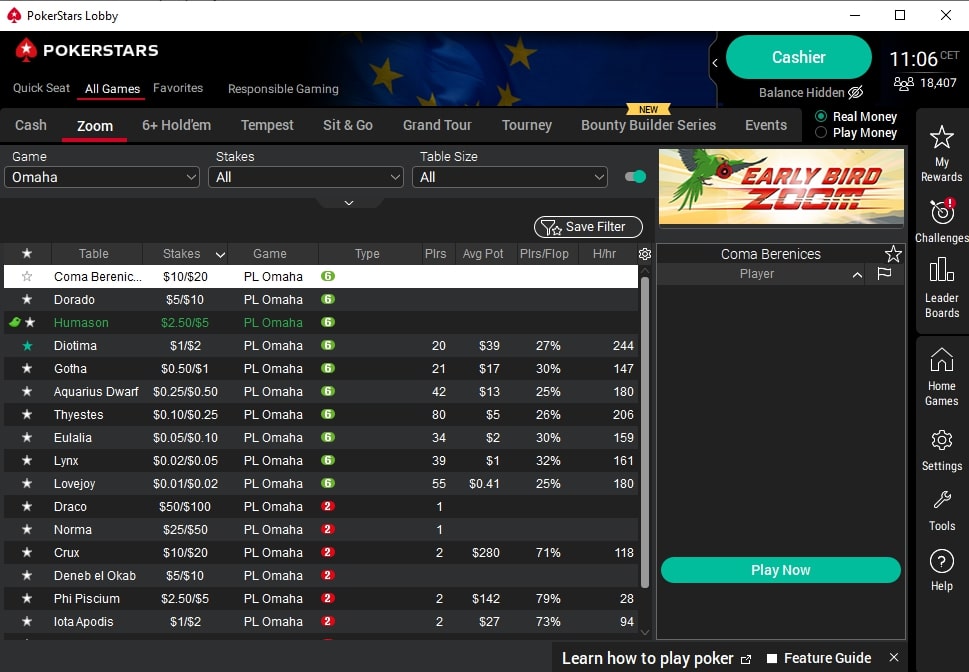 PokerStars is the leading poker site in the world when it comes to traffic based on pokerscout. The action runs throughout every day, seven days a week.

Because PokerStars is currently battling it out with GGPoker on who's having the highest trafficking online poker site, there's no need to worry about the peak hours.
Heads Up Games
In the last decade, most online poker sites removed their heads-up tables. At PokerStars, both NLHE and PLO heads-up games are still being offered. The lowest stakes to play 1 versus 1 in both formats is $0.25-$0.50 and go up to $50-$100 blinds!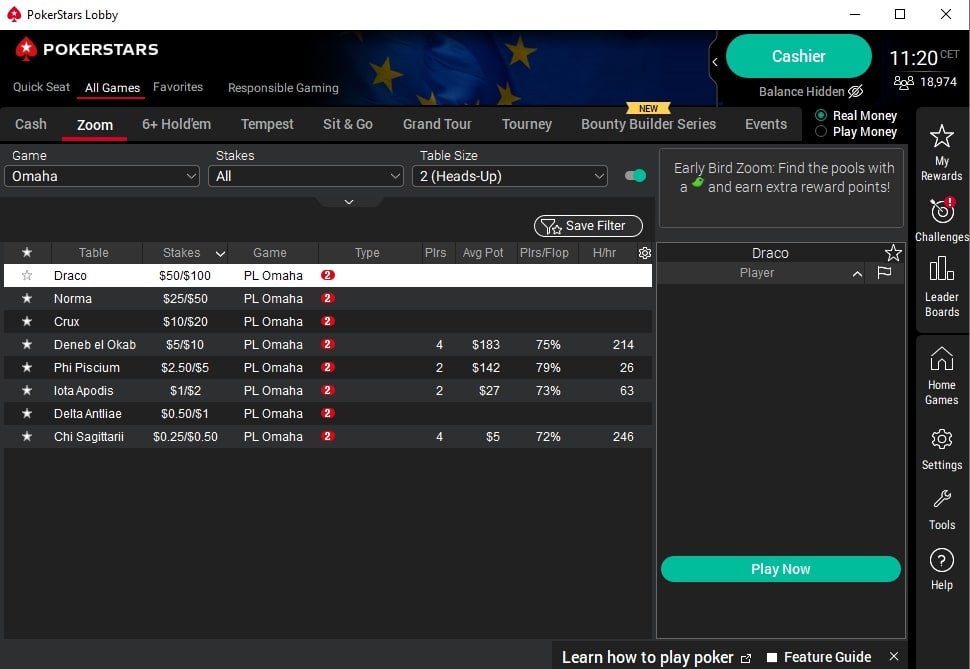 The rake for heads up games in both No Limit Hold'em and Pot Limit Omaha, is 5% per pot with a rake cap of $0.75 (at $0,25-$0,50 blinds), $1 ($0.50-$1), $1.25 ($1-$2) and $1,50 from $2/$4 up to $3/$6 blinds.

At higher stakes only 4.5% is being charged per pot and the rake cap is $1.50 at $5-$10 blinds, $1.75 ($10-$20), $2.25 ($25-$50) and $2.50 ($50-$100).
PLO Tournaments
Pokerstars is famous for hosting the World Championship of Online Poker (WCOOP) and other annual series such as the Spring Championship of Online Poker (SCOOP), MicroMillions, and TurboSeries all guaranteeing prize pools of millions of dollars.

More major tournaments are being organized on a weekly basis. The most famous one is the Sunday Million, where the prize pool is one million dollars guaranteed. Others are the Sunday Kickoff, Warm-up, Storm, and Supersonic. Additionally, other formats are hosted regularly such as the Hot Turbos and Bounty Builders.

The guaranteed Pot Limit Omaha tournaments are called Omania tournaments. A weekly overview of the daily Omania tournaments running is shared below.

| | | | | | |
| --- | --- | --- | --- | --- | --- |
| | | | | | |
| | | | | | |
| | | | | KOmania $109 (Progressive KO) | |
| | | | | | |
| | | | | | |
| | | | | | |
| --- | --- | --- | --- | --- | --- |
| | | | | High Roller Club: Omania HR | |
| | | | | High Roller Club: Omania HR | |
| | | | | High Roller Club: Omania HR | |
| | | | | | |
| --- | --- | --- | --- | --- | --- |
| | | | | Saturday KOmania (Progressive KO) | |
| | | | | Omania $109 (Weekend Special) | |
| | | | | 4-handed KOmania High Roller (Progressive KO) | |
| | | | | Omania $55 (Weekend Special) | |
| | | | | Omania $33 (Weekend Special) | |
| | | | | Omania $7.50 (Weekend Special) | |
| | | | | KOmania $109 (Progressive KO) | |
| | | | | High-Roller Club: Omania HR | |
| | | | | Omania $55 (Weekend Special) | |
Conclusion
PokerStars has always been among the top trafficking sites and not without reason. It's the most famous brand worldwide with likely the best software, and a huge tournament offer that will always attract players.

The introduction of their new rakeback system can be a good move to keep GGPoker trailing. PokerStars is already offering a good rake structure compared to most other online poker sites, especially for high stakes. A transparent and rewarding rakeback system might be the final touch to get former regulars and high stakes players to return to 'the home of poker'.