PLO Trainer Web App is a cloud-based PLO software that allows you to access already pre-solved pre-flop and post-flop GTO solutions, within a few seconds and in just a few clicks.
The reason why this PLO tool is so helpful, is because it doesn't require you as a poker player to have access to a solver yourself. In addition, if you would then have access to a solver yourself, you would then need to run thousands of situations and spots, which will take you a lot of time, energy, and can cost you a lot of money.
We've been running sims over the last few years and saved up all this information for you to have access to within this tool. PLO Trainer Web App is a software for beginners as well as for more advanced players. It is very intuitive to use with helpful features to learn quickly more about Pot Limit Omaha.
Here is an introductory example, from our PLO Trainer Web App Tutorials course.
In the following sections, I will go through all the pre-flop and post-flop features that come with our in-house GTO software, along with some video examples from the previously mentioned web app course.
Pre-Flop Solutions
When variables change (rake, the amount of players at the table, your stack size, or whether or not you have to pay ante), the strategy has to be adjusted. That is why we have five different overarching solution categories, each with several variables (stake level / stack size) you can choose from.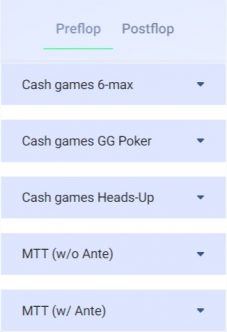 Cash Games 6-Max:

3-5 stack sizes for PLO50, 500, & 5000.

Cash Games GG Poker:

6 stack sizes from 10bb to 100bb.

Cash Games Heads Up:

2-3 stack sizes for PLO50, 500, & 5000.

MTT (with/without Ante):

7-8 stack sizes from 5bb to 40bb.
You can pick the profile that you're actually playing, or the one that comes closest to your scenario, and find a situation that is specifically designed for the games you play.
Range Browsing
When you open up any positions range by clicking on the "SHOW" button, you will see a window popping up all the hands in your range listed by type of action.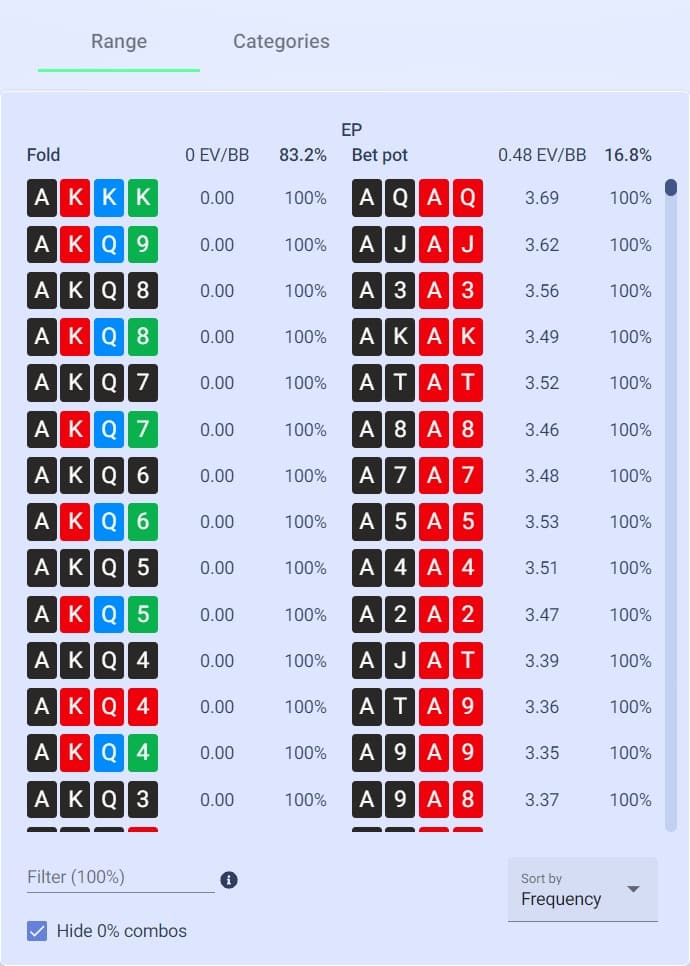 There are two sortable data points attached to each action column.
On the left is the expected value (EV), which tells us how many big blinds we are supposed to win when taking this action.
On the right is the frequency, which refers to how often you should be performing the action with that specific combination. The majority of hands will have 100% frequency, but in some cases the effect of multiple actions can be very close to each other, resulting in a mixed strategy.
Additionally, you can use a filter to type in any hand that you're interested in learning more about, here you can see it in action.
Categories
There are simply too many combinations in PLO to focus on an individual hand. It's better to group hands with similar characteristics and find patterns that work. That is why we made sure PLO Trainer comes with 9 built-in categories (and sub-categories).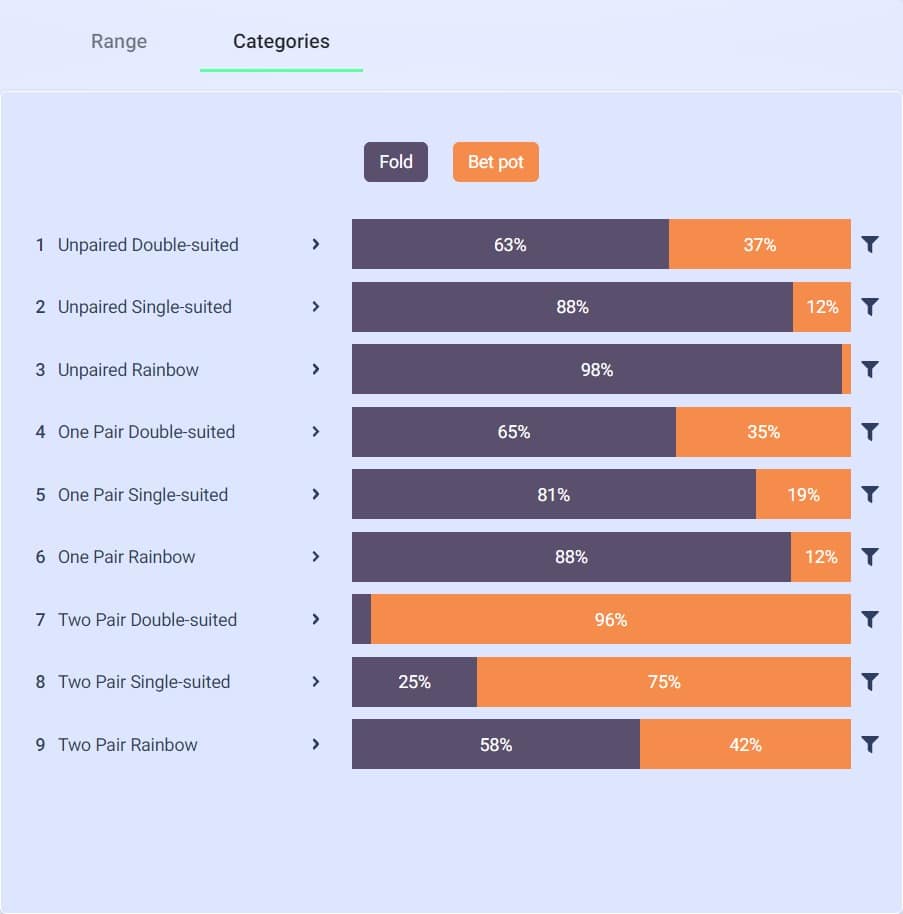 In total, PLO Trainer includes 76 pre-flop categories. You can use this tool to dive deeper into them and better recognize patterns and decide the best action to take.
Pre-Flop Training
Test yourself by clicking the blue "TRAIN" button and answering the correct action for the selected spot. The training feature can be used on an entire range as well as a filtered range or category, so you can narrow down the focus of your practice.
Post-Flop
We have a selection of 3 post-flop situations available. All of them allow you to choose different stack sizes, scenario (singe-raised pot, 3-bet pot, or 4-bet pot), as well as which positions are in play.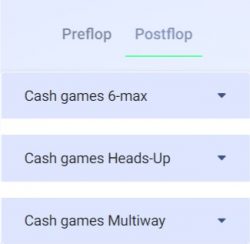 Cash Games 6-Max

With 2 out of 6 players in the pot

Cash Games Heads-Up Games

With only 2 players at the table.

Cash Games Multi-Way

With 3 out of 6 players in the pot.
Flop Solutions
Once the situation is chosen, you will see a list of different kinds of flops available. With around 209 different flops per node, we cover the main types of flops you can work on for virtually any scenario.
After selecting the flop, you can work in the range window the same way as with the pre-flop solutions.
Turn & River Solutions
Before you can actually go to the turn or river, you have to set up a flop solution.
When a flop board can go to the turn or river, you will see two arrows next to it. If there aren't two arrows listed, it's exclusively a flop solution.
Keep in mind that we are constantly adding more turns and rivers to the tool if we believe that a specific node is valuable enough.
NEW FEATURE: Post-Flop Syntax
Our new post-flop filters make post-flop analysis an extremely quick and intuitive task.
When you click on the information icon below the filter bar, a list with all our new post-flop filters will pop up. You can also type the syntax directly in the filter bar.
These post-flop syntaxes work for flops, turns, and rivers, and are segmented into different categories, as shown in the example below.
Conclusion
PLO Trainer Web App is a simple, intuitive way to learn GTO Pot-Limit Omaha Strategy. You can navigate between positions and stack sizes, load pre-solved simulations, all within a cloud-based application.
There is no download required to use PLO Trainer Web App, as its simplified interface runs directly in your browser.