Omaholics is currently the biggest online Omaha Tournament Series with $7,000,000 guaranteed in prize money! It's hosted on GGPoker and will take place from Sunday, March 14 until Sunday, March 28. It's a tactical dream come true.

For two weeks the GGNetwork will live and breathe Omaha, with a total of 105 events being carried out. You can link your GGPoker account to Black Card to earn a ticket to your favorite Omaholics event by playing cash games.
Each major event is accompanied with a mini event with a buy-in of approximately 10% only. Therefore, there will be an interesting Omaholic event for plenty of player profiles, including yourself!
The Omaholics Series includes Bounty Hunters as well as High Roller tournaments. Here's an overview of the daily tournaments offered:

Daily Omaholic Tournament Schedule
| | | | |
| --- | --- | --- | --- |
| | | | |
| | | | |
| | | | |
| | | | |
| | | | |
| | | | |
| | | | |
| 12:30-00:30 (starting every 3 hours) | | | |
Note that for every major event highlighted on the table, a proportional mini event is starting at the same time with around 10% of the buy-in.

Feel free to check the full schedule in GGPoker's Omaholics page.
No-Limit Post-Flop Betting
GGPoker is famous for its innovations. This event proved no different, as they are making use of a new format for playing Omaha. The highest bet pre-flop is still pot limit, but in all events there will be no limit to the betting after the flop!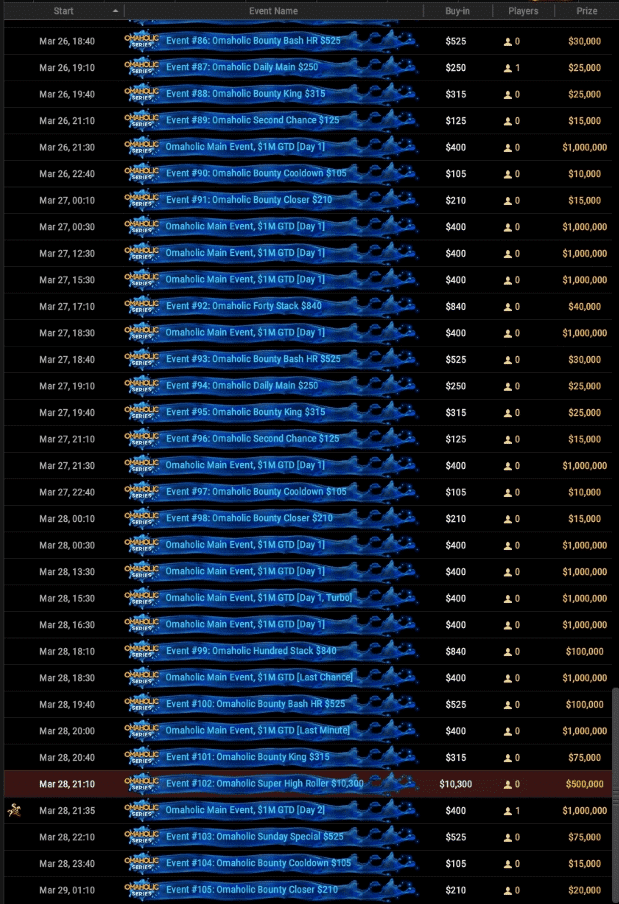 PLO Mastermind Coaches' Thoughts on the Series
With the first-ever Omaha Series running, who better to ask than our very own PLO Mastermind coaches?
I reached out to Fabian "Suhepx" and GGPoker OmahaSquad member Fernando "JNandez87" about their favorite upcoming tournament, about the tourneys you shouldn't miss out on and the introduction of No-Limit to the post-flop betting.
Here is what both coaches had to say.
Favorite
The $10,300 Omaholic Super High Roller event.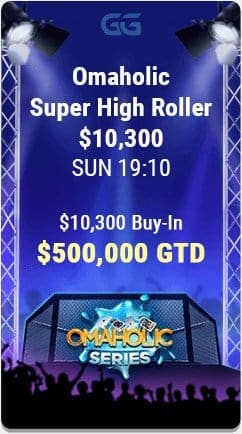 Best Value
The $400 Main Event at the end of the Series.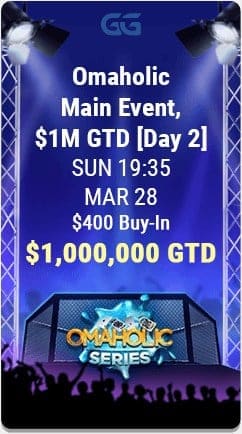 Softest
The $400 Main Event & the $55 mini-Main Event.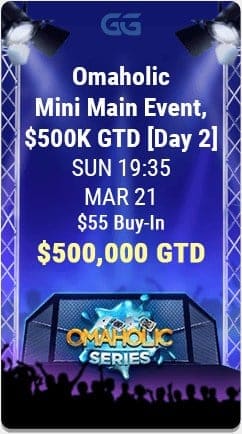 Against the best players in the world, often a small mistake is enough to get you out of the tournament! They will put you into tough spots the whole time and you will be under constant pressure. – Suhepx
The $250 Omaholic Daily Main is also a great addition to your schedule as well. "Multiple starting days and a big guaranteed prize pool makes this one a must play", commented Suhepx.
JNandez stresses there is great value in the $840 Forty Stack, given its buy-in and the fact that it's played on a daily basis. And, something that players shouldn't forget: they can sell action for their tournaments in the lobby, even if nobody knows them.
Update: After the first week, JNandez has gotten to the final table in three events, twice in the Omaholic High Roller $1,050 and the Super High Roller $10,300, summing up to $134,050.27 in total winnings. BAAM!
About No-Limit Post-Flop Betting
It's "certainly interesting", says Fabian. "I feel like it mixes things up quite a bit and we see players adapt differently to the new format so far. It will be interesting to see how it develops". 
JNandez finds that the game mainly "stays the same, with a few more possibilities and changes post-flop", like in the following clip from his Twitch channel during the Omaholic High Roller $1,050.
Mastermind coaches agree it's too early to draw any conclusions about whether this format will be adopted after the series comes to an end. We'll keep an eye on how this format is going to evolve, and how it affects the Omaha game moving forward.
Sign up a new GGPoker account via our Black Card affiliate program or link your existing account successfully to earn multiple rewards on top of the site's rewards!
Earn a free ticket to an Omaholic event.
Participate in our weekly rake race for GGPoker and Natural8
Play in our weekly PLO Bonanza tournament for free by playing only 100 hands
Get free access to a PLO Mastermind month by earning 10,000 leaderboard points
Join our monthly $2,000 freeroll open to all Black Card members
Conclusion
Omaholics is a groundbreaking online Omaha series, hosted on GGPoker from Sunday, March 14 until Sunday, March 28. With two weeks of tournament action for virtually every player profile, and a proportional mini-event for every major event.
The tournament also will also feature a No-Limit post-flop betting structure.
Find out more information on the Omaholics Series on GGPoker's Omaholics page.
To increase the chances of more successful Omaha Series being organized in the future we are happy to hear what you think! Fernando is in touch with GGPoker on a regular basis and all constructive feedback will be shared and discussed for improvement. 
To share your experiences with us you can join our Discord channel.