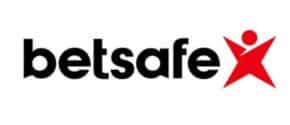 Betsafe is a former Microgaming Network skin, and after the network ceased its operations, the site moved to the iPoker network in 2020. The iPoker network was founded in 2004 by Playtech, and is famous for its large sports betting sites such as Betfair and Betsafe. 
In this article we will do a Betsafe poker review exclusively. Here is a rundown of the main tactical characteristics of this poker site, click on any term to jump to its respective section.

Because the iPoker network is not competing with the promotions or large tournament series done by the largest poker operators, it can be easily overlooked. But it has been a reliable network for ages, with decent software and good player benefits.
Traffic has increased since the migration of Microgaming skins to the iPoker network, such as Betsafe, Nordicbet, Betsson, Redstar, and a few others.
Betsafe offers Omaha Hi and Omaha Hi/Lo (referred to as 'PLO8/FLO8') from 2-6 seat tables in both pot-limit and fixed-limit formats.
Here's PLO Mastermind coach Luuk Botter's take on the iPoker network:
I enjoy playing on the iPoker skin. The software has a number of advantages like the ability to use a HUD and a good rakeback program. In addition to this you are forced to play regular tables, which in my opinion can create a larger edge over your opponents. The overall action is good when it comes to the amount of tables that are running and the ratio of regular vs. recreational opponents. Games I personally play (PLO 50 – PLO 200) run fairly often and most of the time you are able to start at least a few tables quickly. If you play higher than PLO 400, this skin might not be the place for you as these games run very infrequently. In my opinion it's definietly an under-rated skin with a lot of potential. 
Restricted Countries
The following countries are restricted from playing at Betsafe:
Afghanistan, Australia, Belgium, Bulgaria, Colombia, Cyprus, Czech Republic, France, Hong Kong, Iran, Israel, Italy, Latvia, Macau, North Korea, Philippines, Poland, Portugal, Romania, Singapore, Spain, Switzerland and USA, and its territories.
For a couple of countries listed it could be possible you're able to register on a different skin at the same iPoker network. For example, Betsson, Nordicbet, Betfair, Guts Poker, or Redstar to name a few.
Payment Methods
Betsafe offers the most common payment processors: Neteller, Skrill, and Muchbetter, as well as major credit cards. Note that payment options may differ per location.
Each of these methods has its own minimum deposit starting at €10/$10, with a maximum of up to $50,000, and up to $100,000 via bank transfer. Betsafe does not charge any deposit or withdrawal fees, but the different payment methods could.
Reliability
Betsafe is part of the Betsson Group, together with Betsson and Nordicbet. They have been one of the largest brands in the European internet gaming industry for decades and are listed on the Nasdaq Stockholm exchange.
The Betsson group contains over 20 brands and "offer casino, sportsbook, and other games via gaming licenses in 18 jurisdictions". Betsafe Poker launched in 2007 and is licensed and regulated by the Malta Gaming Authority.
Welcome Bonus
Betsafe offers a great 100% deposit match bonus of up to €2,000. The minimum deposit is €10 and the more you deposit, the larger bonus you will be able to clear.
You've got 60 days to clear as much of the bonus as possible. The bonus pays out €5 bonus money for every 250 loyalty points earned. For every €1 paid in rake, you earn 10 loyalty points. 

New players can complete different missions for up to €10 in ticket rewards as well. You can only complete one mission at a time, and completing your current mission automatically unlocks the next one.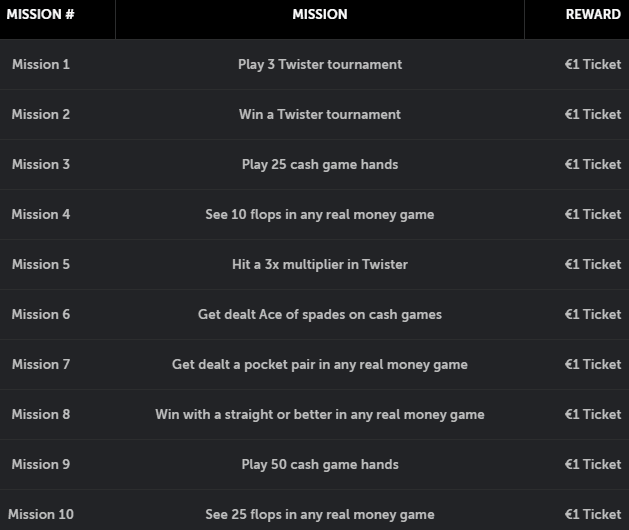 Rake Structure
The rake structure at the iPoker network is similar for No-Limit Hold'em and Pot-Limit Omaha. 
For PLO100 and up, the structure is slightly worse than the market average, and at PLO50 and below, the rake structure is quite bad.
To somewhat overcome the bad rake structure, feel free to contact me on Discord (@TomSmeets#5554) to receive a 30% flat rakeback deal.
Note that all tables containing just 2 players are capped at €1 rake and at the PLO2-10 stakes 6.67% rake is charged per pot, which is significantly more than the common 5%. For PLO20-1k it's 5% like on most poker sites.
Here are the rake caps are for 6-handed tables.
A lot of players are interested in how rake is reflecting in bb/100. By conducting our own research and comparing rake structures, we come to this broad conclusion: 
Note that bb/100 is a very subtle statistic and can vary widely across different playing styles. Since it's a recurrent question, I hope it's still valuable to you as a general reference.
Rakeback
Betsafe offers a tiered rakeback system. For every €1 in tournament or cash game rake, you earn 10 Loyalty Points. The number of Loyalty Points earned will be calculated on a monthly basis.
The Silver tier offers you 10% cashback if you rake below €19.90. From €20 to €99.9 you're Gold status, etc.

As you can see, the reward point multiplier becomes higher by moving up in ranks. The higher the rank, the higher the multiplier and thus the cashback value.

You exchange your Reward points for cash in the 'My Account' section. For every 100 Reward points you exchange, you will receive €1 cash. Note that Reward points will expire 180 days after they are earned.
We can offer you a great affiliate deal where you don't have to move up in ranks to get to the Diamond level, thus earning cashback at a 30% rate.
Database/HUD Support
You're able to use your favorite database on Betsafe, such as Holdem Manager 3 or Poker Tracker 4. 
If you start the head-up display (HUD) while playing, it will show you the important stats of your opponents' tendencies. You can select the stats you like to see in-game within the database under the 'HUD editor'.
Subscribe to our newsletter to receive a FREE HM3 HUD file made by PLO Mastermind's small stakes coach Luuk Botter.
(We don't spam and you can unsubscribe any time.)
Check out the video below for Luuk's overview of the included stats.
To import the HUD profile into Holdem Manager 3, follow these steps:
Click on 'HUD editor' from the 'HUD' dropdown menu.
Click on Options>Import profile (within the editor).
Open the downloaded file and edit the name to your liking.
Select it from the 'Profile' dropdown menu.
Try Hold'em Manager 3 or Poker Tracker 4 one month for free.
Recently, the iPoker network came with an update and is now offering an in-game HUD as well. In your settings, you can color-code a certain playing style to quickly see how many flops an opponent has seen or how aggressive he's playing.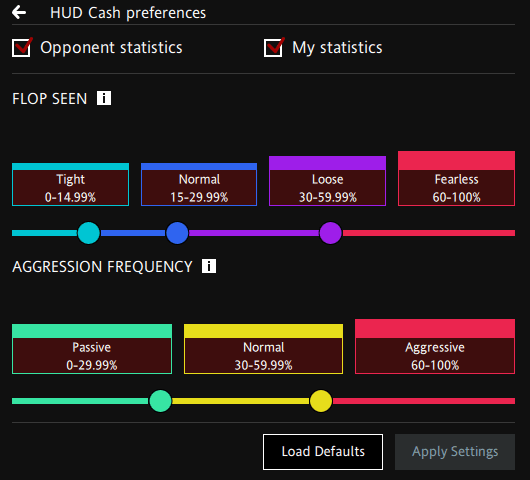 At the table, it looks like this.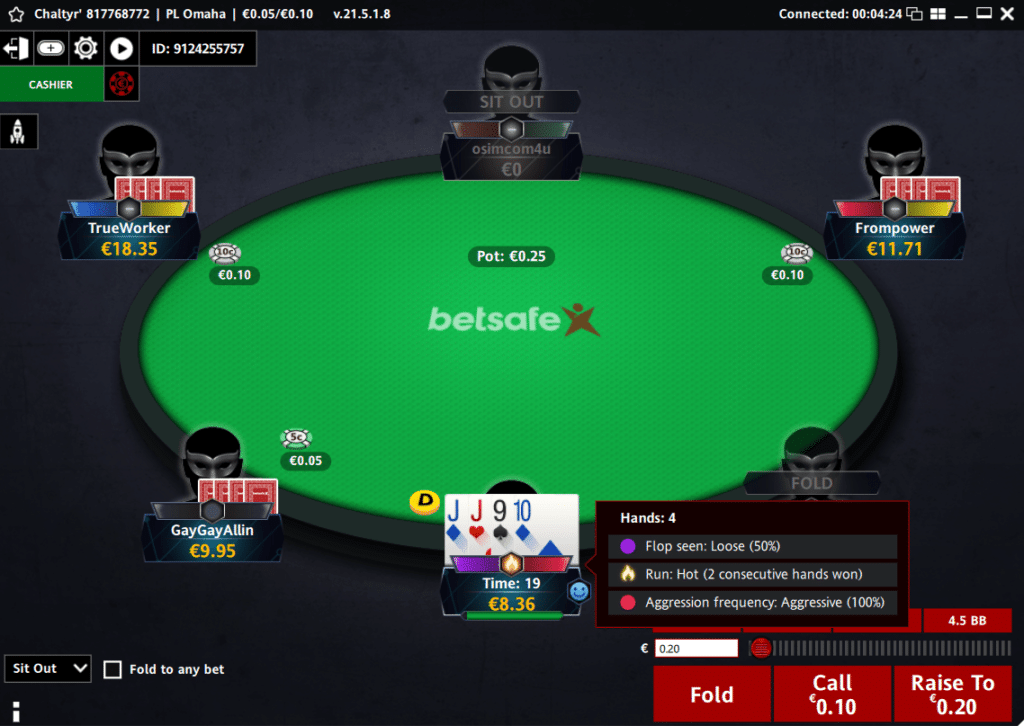 The color at the left side above a player's nickname is related to the number of flops seen, and the right side color shows the aggression frequency. The icon in the middle shows whether someone's running hot or cold.
Competition Softness
The level of competition is good, and you will come across many recreational players on a daily basis. Even with the generous cashback players can earn, Betsafe and the iPoker network as a whole seem to be kind of 'overlooked' by most grinders.
This might be due to the lack of traffic throughout the day, because no fast-fold format is offered, or a different reason. This results in a good reward/game quality combination.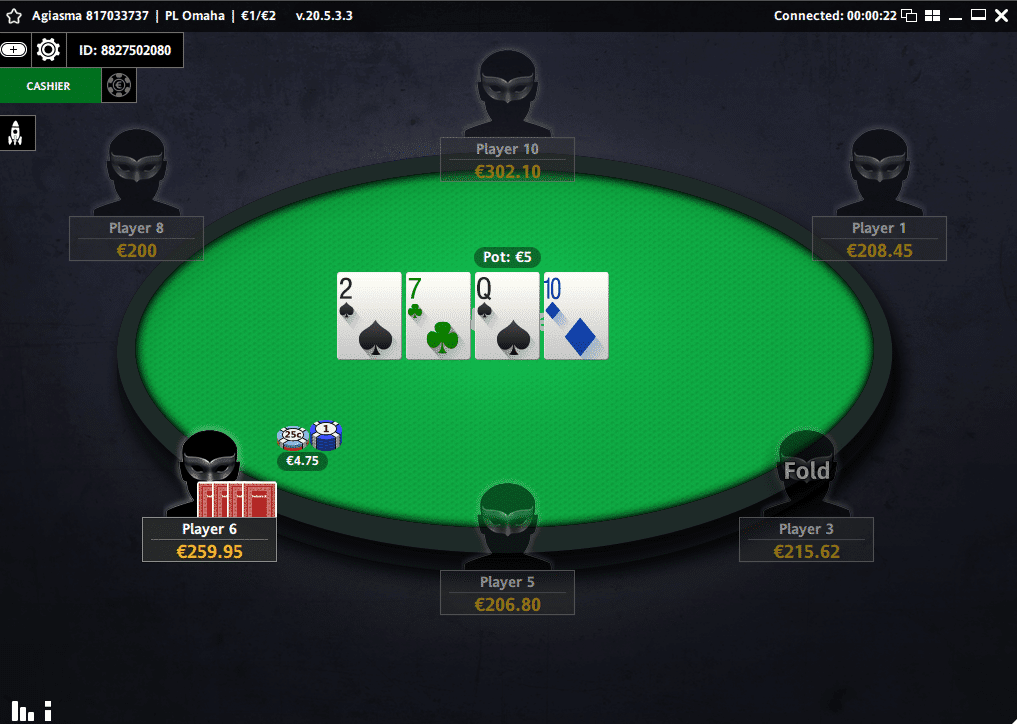 Population tendencies across the PLO games are generally wide preflop, whereas postflop most players tend to be more on the passive side.
Traffic
After the migration of Microgaming Network skins to the iPoker network, traffic has increased significantly and is now ranked as #7 of most trafficking online poker networks in the world, based on pokerscout.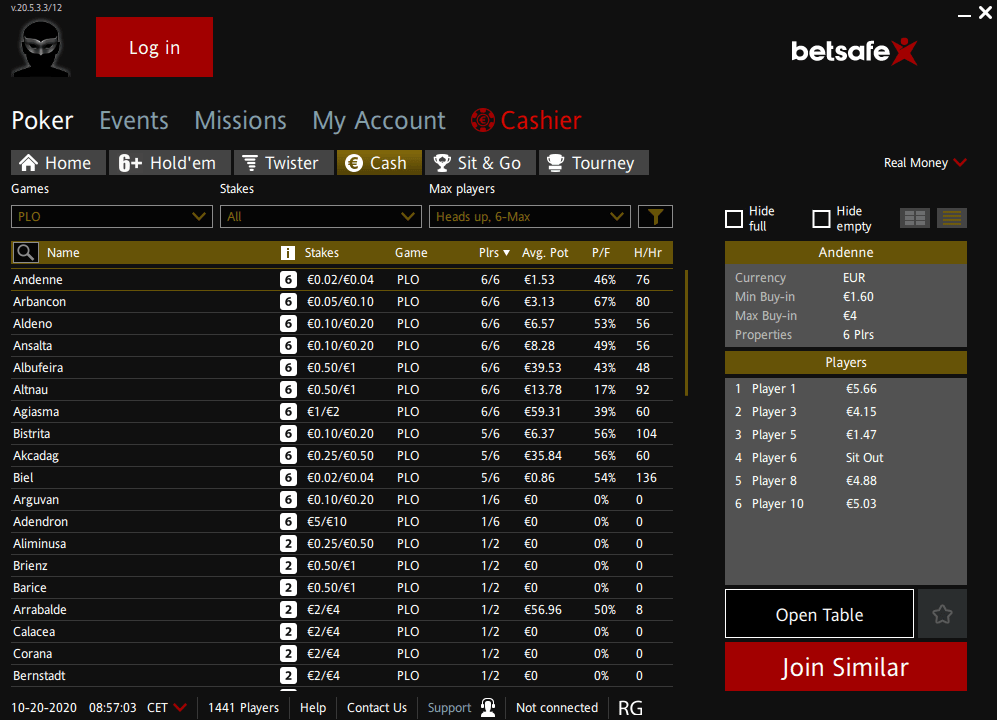 At lower stakes there's tables running throughout the day. For mid-stakes PLO, the action increased a lot after the migration of Microgaming sites, and every now and then there's good action during the day. 
In general, the action tends to steadily increase at European afternoons and plenty of games are running in the evenings. The peak hours are from 8 to 11 pm CET.
Heads-Up Poker
Although more and more online poker sites remove their heads-up tables, this is still being offered at Betsafe. Tables are available from PLO4 up to PLO1K and for similar stakes in No-Limit Hold'em.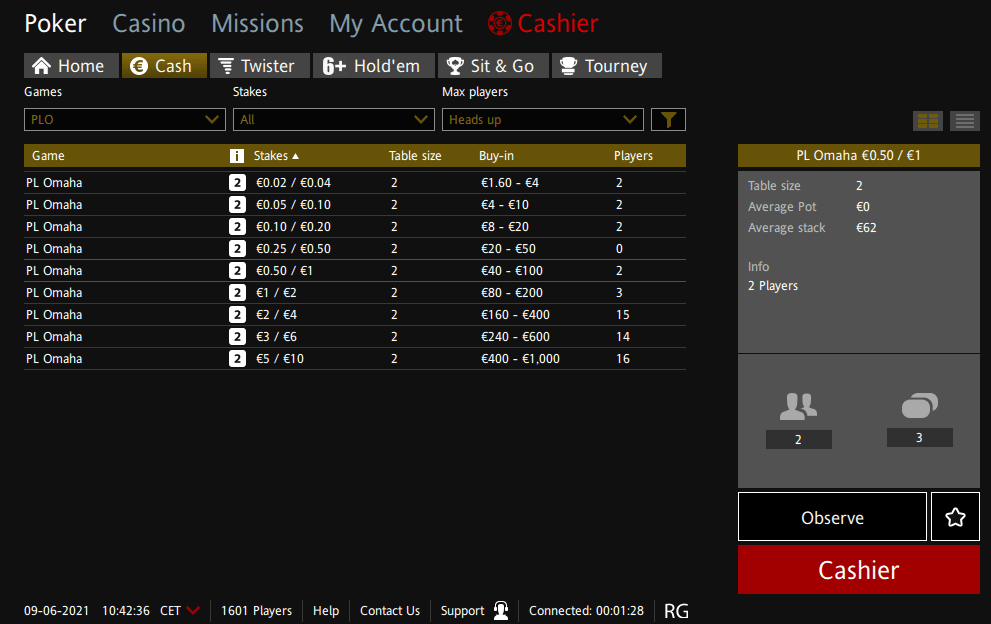 Blind lobbies are being used by the iPoker network in order to protect weaker players by reducing bum-hunting pros, who only play against targeted recreationals.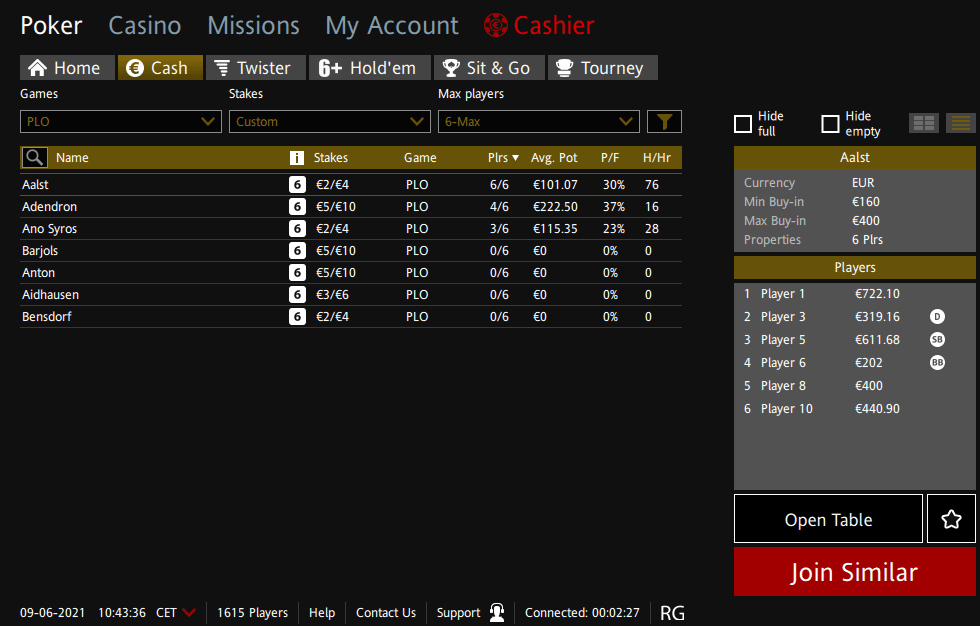 Betsafe does not provide a fast-fold format such as Zoom at Pokerstars or Fast-Forward on Partypoker, only regular tables are offered.
Pot-Limit Omaha stakes can be played from PLO2 up to PLO1k (€5/€10 blinds) and the majority of the action is played up to PLO200 and sometimes 400. Occasionally, a €3/€6 or €5/€10 game is running.
Betsafe also offers live chat support. By clicking 'Contact Us', showing at the bottom of the lobby, you're redirected to the Betsafe website and are able to talk to a support agent within a few minutes.
Conclusion
Betsafe can be a good (alternative) site for a specific group of players. First of all, the playing conditions combined with the level of competition are favorable, especially for mid-stakes.
If you value playing with a HUD to make the best decisions, Betsafe can be the best site for you. Although traffic can be somewhat low compared to the largest online poker sites, it might pay off to add one or two tables of iPoker action to your current sessions.
Be aware of the unfavorable rake structure at lower stakes and do your calculations. Games can still be beatable given the use of HUDs, the cashback system, welcome bonus, relative soft competition level, and a great affiliate deal on top.
To get the deal, all you have to do is sign up for a new Betsafe account via this link (open in a private or incognito window to make tracking successful) and send an email to [email protected] with your account username and attached email address.
When the tracking is successful, you'll be upgraded to the Diamond level and earn a 30% cashback flat at all times. In addition, when the welcome bonus runs out, you'll automatically participate in a rake chase offering from 10% to 18% extra value.