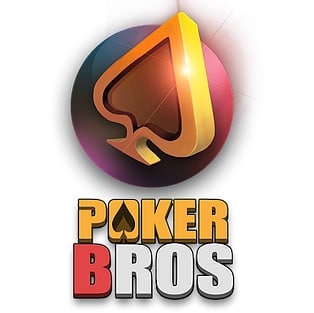 Disclaimer: PokerBros is an online social gaming platform and does not provide any real money service. Any monetary value indicated in this article is solely and exclusively endorsed by the respective club host.

In the footsteps of the success of poker apps such as PPPoker, PokerBros was founded a couple of years later, in 2019. Similar to other poker apps, it started as a social gaming platform where players could bring their friends and play in an 'online home game' environment with play money chips.
Because PokerBros is accessible from around the world it attracts a lot of players from restricted markets since the majority of games are played for real money these days. Games tend to be very soft as a result which brings even more players to the PokerBros app.

Here is a rundown of the main tactical characteristics of PokerBros, you can click on any term to jump to its respective section.

After its launch in 2019, PokerBros was able to capture a significant piece of the poker app market share. Its software is better than most other apps, if not all, for owners to set up their games as well as the player experience.
You have the option to play regular play money games on PokerBros trying to collect as many virtual coins as possible. Additional coins and other prizes can be won via a bonus by logging in on a daily basis, playing in tournaments, or by spinning the 'lucky draw' wheel.
The coins you've earned can be used to enter play money tournaments, events where you can win gadgets, or satellites to live events. However, most games on PokerBros are played for real money.
Club hosts started to bring their home games to the online felt at first, and kept track of winnings and losses manually. Chips were treated as US Dollars for example, and all financial transactions were handled in good faith, mainly between players who knew each other from the live circuit, or via a friend. 
Everybody who wanted to have a game could simply log in via their mobile or iPad and play in their familiar environment, albeit online.
Today, games from all over the world are organized. From Singapore to Australia, the United States, Brazil, Europe, basically anywhere. You can tell where a club is oriented from the currency that's being used, like Brazilian Real or Singaporean Dollars.
Some clubs merged their action over time and these alliances are called Unions. They work similarly to the iPoker network, which includes sites like Betsafe and Betfair. 
Smaller clubs combine their player pools as a result and are therefore more attractive to other players with more action going. Unions can invite clubs with a good track record and soft games going, and clubs pay a fee if they become part of a Union.
PokerBros also offers merchandise via its 'Store' on their website where you can buy t-shirts, hoodies, and hats. At the moment the US-based team of PokerBros ambassadors consists of three players who've been playing in Vegas during the summer of 2021.
In order to get the action going in their clubs, owners are looking for agents who can bring players to their games. They prefer losing players since those attract other players and also keep the ecosystem in balance. 
Agents and affiliates can have a network of players that they want to bring to these games and thereby earning a piece of the action generated. This way it can become a win-win-win situation for the player, the affiliate bringing the player, and the club owner.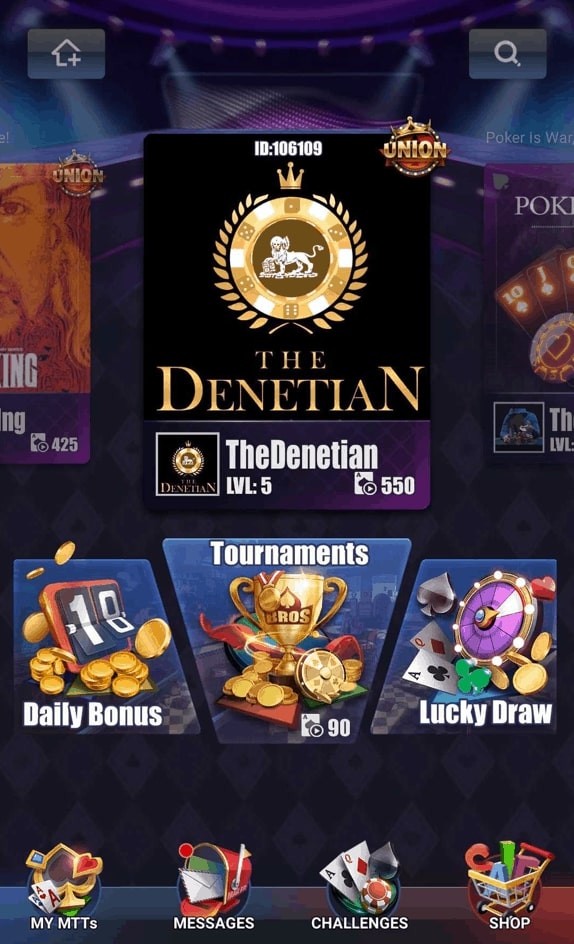 Payments
In the app, there's no payment processor like on regular sites. If you like to deposit into the apps you'll need to contact your agent. He'll provide you with an address to transfer the funds to. 
Payment methods will vary per setup. You let him know the amount and once processed the money can be distributed among the preferred account(s). It's important to note that each account per club needs to be funded separately.
If you like to make a cashout you'll reach out to your agent again, let him know the amount and method preferred. Once the chips are claimed back from your account(s), the withdrawal will be processed. 

Payment options can differ per agent or affiliate. Cryptocurrencies are popular since payments can be processed quickly and it's relatively low costs. If you need any help depositing with crypto in general, check out this simple 6-step guide to get started.
Software
The PokerBros software has been developed by Beyond Games Limited and is optimized for iOS and Android devices in order to play on an iPhone, iPad, or Android phone. Go to the website and download PokerBros from the app store.

The app can only be played on a PC using an Android emulator. Recommended emulators are LDPlayer and NoxPlayer. The emulator displays the table in a similar way as you would see it on your phone. Playing from a Mac computer is not supported.

The PokerBros interface and user experience is probably the best compared to other apps. That said, it's a different ballgame than regular sites. Therefore it's recommended to start out with one or two accounts to familiarize yourself with the app. Although you'll figure out how it works within ten minutes, it's probably best to add tables gradually.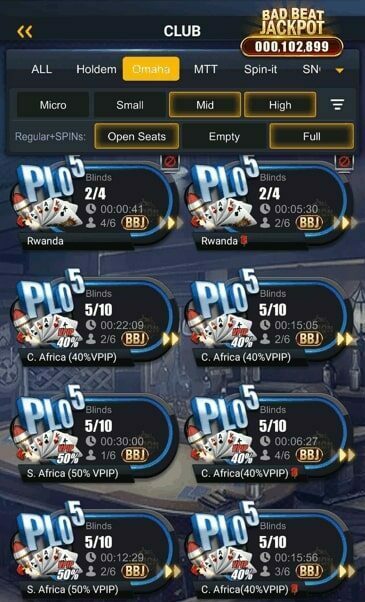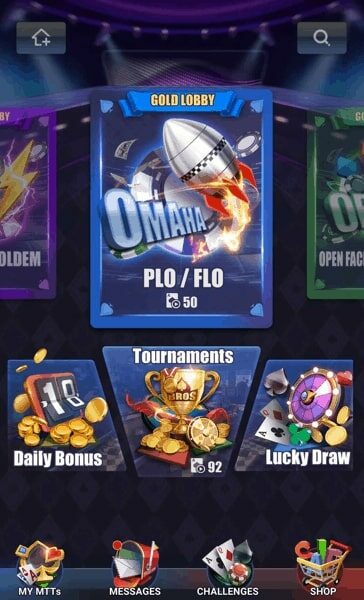 Reliability
PokerBros, similar to other apps, is a platform for social gaming and therefore simply offers games with virtual chips. As a result, they don't have a gambling license. Therefore, we'll discuss the reliability of the PokerBros app. 
In case you're going to play real money games via an agent or affiliate there is risk involved, since the relationship is built upon mutual trust. So make sure to play via a reliable setup.

Gaming Labs certified the Random Number Generator (RNG) after passing the test on July 29, 2019. iTech Labs did another check on the last day of December '19 and also certified PokerBros RNG, just like BMM Testlabs did. With three successful tests, we can safely assume that "the card sequences are unpredictable, non-repeatable and uniformly distributed."

The app has its own security service named the 'Game Integrity Bros Team'. In a blog post of September '20, they shared the team consists of 14 poker enthusiasts including "many former mid-stakes poker professionals, bright data analysts, and statistics experts." They're using a mix of automated systems such as algorithms as well as manual review methods to ensure a fair playing field.

Club hosts have different measurements at their disposal to counter collusion and bots, one of which  is GPS and IP restrictions. Owners can also choose to exclude players that are playing through emulators via their PCs. If the PC emulator restriction is selected, a screen with a red crossed circle is displayed at the top right of the table, showing in the club lobby.
In January '21, PokerBros introduced a new anti-bot feature called Photo Rotating Verification. This is an easy task for humans where you need to align a photo horizontally which should be done within 15 seconds. 
In cash games, if you fail to do so within three attempts, you'll be removed from the table and won't be able to rejoin after. When it comes to MTTs, the report will be forwarded to the Game Integrity Bros for investigation.
Welcome Bonus
On most regular sites players are offered a welcome bonus. For specific amounts raked a percentage of the bonus money will clear automatically. This isn't available on PokerBros or apps in general. The reason is simple, it needs to be taken care of manually and as a result, agents generally offer a fixed rakeback percentage instead.
Rake Structure
The common rake structure owners in PokerBros clubs offer, is a 5% charge per pot and 3 big blind rake cap. Generally, from $3/$6 stakes and higher the rake cap becomes 2 big blinds.

For low stakes this is actually very good compared to market standards. At mid stakes like $1/$2 and $2/$4 blinds it could be a lot better and at higher stakes the 2bb cap clearly better than 3 but still a lot worse than what the average regular site offers. Agents can request a more detailed rake structure per specific club if you like.

Obviously, with a good rakeback deal and the soft games offered it can still easily be overcome and get you a much higher win rate compared to regular sites. 
Rakeback
Just like most regular sites you can earn rakeback in the apps. It's negotiated between the agent and player as there's no internal system that calculates rakeback.
Often, the more you rake the better rakeback deal you can negotiate. Players who are active at higher stakes generate more rake than low stakes players, and high volume players obviously more than players who occasionally play a few hands.

Rakeback is mostly settled on a weekly basis. Reports about the generated rake by an agent's player are received and based on the rakeback percentage negotiated, the player's rakeback is calculated and distributed to the account he prefers.

It's recommended to not only look for the affiliate or agent who's offering the highest rakeback percentage. Making sure your balance is secured and preferably guaranteed by a familiar person or business is even more important to reduce the risk of losing your balances to a minimum.
Database/HUD support
There is no possibility to retrieve stats on your opponents within the app. At PPPoker for example, you can purchase a VIP Card and get some basic stats this way. The VIP Cards PokerBros is offering don't share any 'rival data'. It's another measurement to protect recreational players against regulars that would get an even bigger edge this way.

Third-party tools are available for PokerBros that are compatible with the popular databases Hold'em Manager 3 and Poker Tracker 4. Get in touch to learn more about these tools that can facilitate running a HUD just like you're used to on regular sites.
Competition Softness
Some players don't have any other option to play online poker than the apps but the soft games is the key reason why apps like PokerBros are so attractive. If you're used to finding the best action among regular sites you should compare the action on the apps too for similar stakes. It's very likely the games are a lot softer than in your normal game.
The competition level is very soft compared to regular poker sites, mainly due to the worldwide access, convenience for live players, and strictly regulated markets that 'fall behind' with their understanding of the game.
Since the origin of apps like PokerBros started with live games moving online, many players have a relatively low competition level. Playing online poker is not allowed at all in some countries, so apps became the only option to play. This brings in softer competition to the app playing field in general.
When a club is known to be conformed of many recreational players, the operator tries to balance the ratio of regulars to recreational players. The more recs are playing, the more attractive it becomes for sharks to get in the clubs. Because of this, opportunities for soft games come and go.
Traffic
The amount of action is different for each PokerBros club. Some Unions are larger and have more traffic running compared to small(er) independent clubs. Based on where a club is oriented, peak hours can be determined.
Usually, peak hours happen during evenings and nights, similar to regular sites. The currency where the games are played will normally tell where the club has its origin and this way you can determine the best times to log in. Find an agent who's able to offer the larger Unions to find the best games suitable for your preferred playing times.

If you're playing in a club with the Australian Dollar as currency, the majority of players will be playing from Australia. Therefore, peak times will be during Australian evenings and nights. Similar if a club is played in US Dollars. Consider how these time zones relate to your own as this is helpful to create your schedule.
Features Explained
VIP Cards
VIP Cards can be purchased in the shop, showing in the main lobby at the bottom right. Three cards are available: Bronze, Silver, and Gold. Each VIP card has its own benefits as you can see in the image below. Each card offers additional free time banks but you can also buy time banks specifically under 'Items'.

VIP Cards or additional time banks need to be purchased with Diamonds. These can be bought in the shop also, under 'Diamond'. 60 Diamonds cost €1,19, 300 €5,49 up to 6468 that are costing €104,99.

It's possible to buy VIP Cards for a 30-day period, 90 days, or one year. The longer period you choose, the less the costs become, relatively speaking.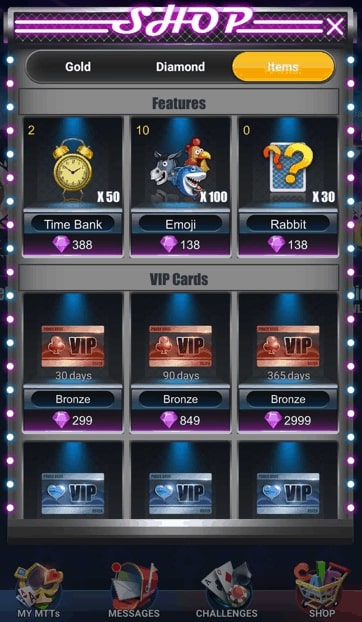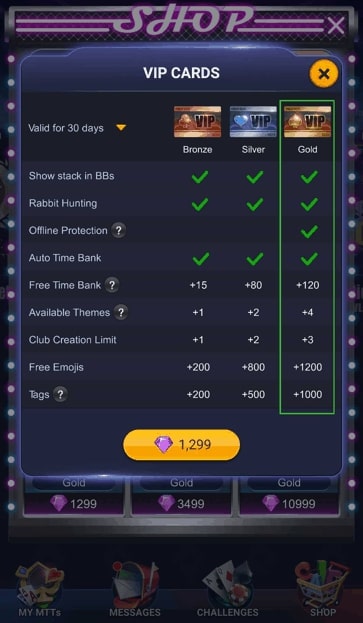 Multi-tabling
You can open 4 tables at once playing from a single account. If you like to play more tables via the PC or without tables overlapping, use any of the recommended emulators to display each table separately.
Bad Beat Jackpot
Cash games tables at PokerBros participate in the bad beat jackpot (BBJ). You can see the payouts in the image below, divided per stakes. As you can see the payout ranges from 15 to 85% per table.

The pot qualifies for the BBJ when it's larger than 10 big blinds and a minimum of four players need to have been dealt a hand. Only the first run qualifies when running it multiple times.

Minimum qualifying hands differ per game format. As you can see losing with quad Kings in 4-card PLO is enough to qualify whereas you minimally need an 8-high straight flush in 5-card PLO.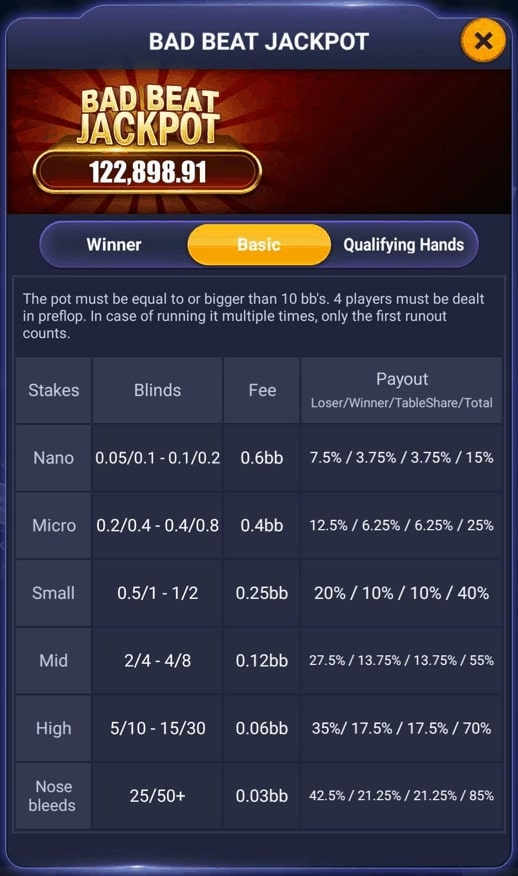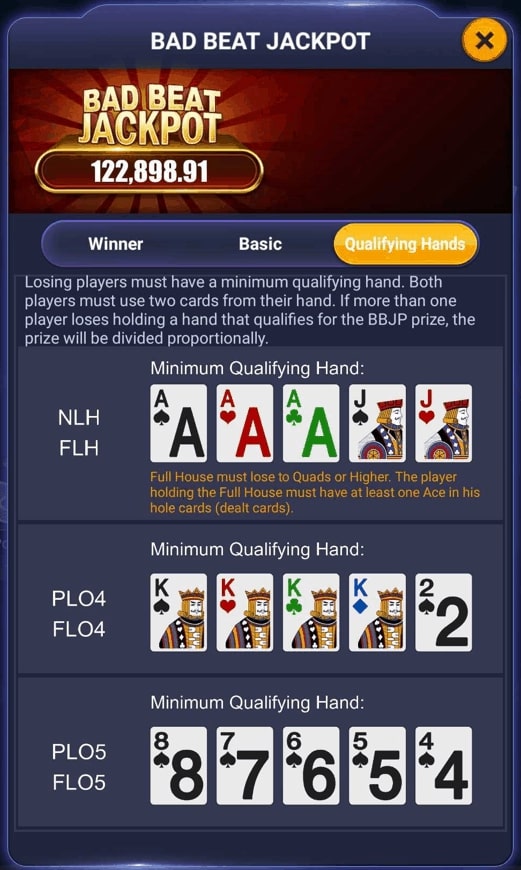 VPIP Tables
Some tables are showing in the lobby with "35%+" attached to their game name. That means a minimum VPIP stat is required in order to join as well as to remain seated at this particular table.
Minimum Buy-in
The minimum buy in for most PokerBros clubs generally vary between 40 and 50 big blinds.
Call-time
Some tables are showing a little clock next to the details in the main lobby, to express that the call time option is being used. Call time is a measurement to counter 'hit and running'. As soon as you're up as little as 1 chip, you can press the call time button and a timer runs down to 0.
You're allowed to leave the table when time is up. At the table showing in the screenshot below you can see that the 'Calltime' is 20 minutes.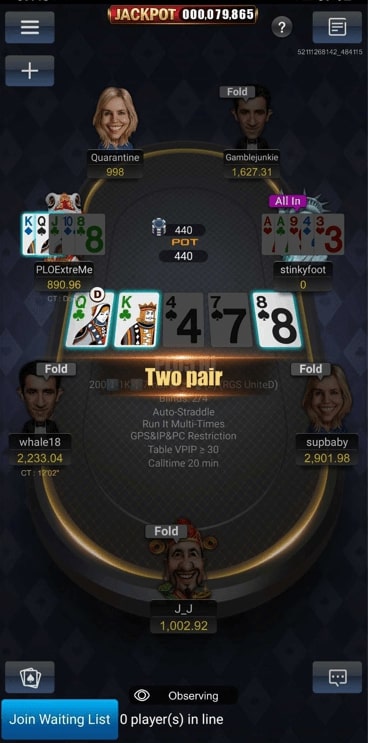 Benefits
The number one reason why playing at PokerBros benefits you as a player is due to the soft games. Given it's worldwide accessibility many players from restricted markets are playing because they don't have an alternative. 
Being an app, many players join via their phone or iPad and are generally not multi-tabling grinders. The main advantages of playing at PokerBros are its soft competition as a result of worldwide accessibility. Being easy to use on a mobile phone attracts players from the live circuit even more.
No Limit Hold'em and Pot Limit Omaha games are offered from the micro stakes up to $10/$20 blinds or even higher. Other formats like 6+ Hold'em also known as Short Deck as well as Open Face Chinese can be found at PokerBros. Most clubs don't offer any heads-up games. Note that each club has different games and formats running.
PLO games are, similar to other apps, extremely popular, and especially the 5- and 6-card variants. Since these formats aren't that explored yet by poker solvers, you can gain a huge edge with most games being soft. If you like to test a new game like this, now is the time it seems. 
Spin-It, the equivalent of spins on regular online poker sites, is being offered in a lot of clubs. The fast-fold format like Pokerstars' Zoom isn't available on PokerBros.

The latest formats that have been added to the software are Double Board Omaha, Pineapple, and Crazy Pineapple.

Plenty of MTTs are offered on a daily basis. Today, the largest tournaments are guaranteeing up to $500k. MTT schedules differ per club or Union offering different buy-in levels and a diversity of playing formats.
Conclusion
There are many reasons to jump into the games at PokerBros. With it's worldwide access, many live players and good rakeback deals, it can have a great impact on your win rate compared to regular sites. If you love to play Pot Limit Omaha with 5 or 6 cards, this is the place to be.

However, always make sure to choose a reliable agent or affiliate because risking permanent loss of your balance also has a great impact on your win rate…

If you would like to check out the games with a test account or jump directly into the action, join our Discord server and get in touch with @TomSmeets#5554 or via Telegram.